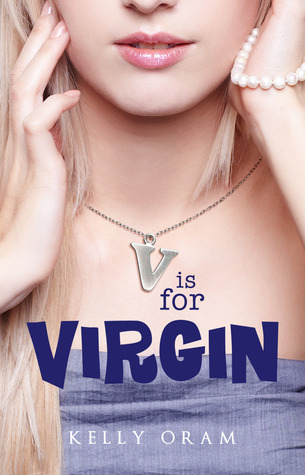 Publication date: December 11th, 2012
Format: Kindle, 360 pages
Synopsis: When Val Jensen gets dumped for her decision to stay a virgin until marriage, the nasty breakup goes viral on YouTube, making her the latest internet sensation.
After days of ridicule from her peers, Val starts a school-wide campaign to rally support for her cause. She meant to make a statement, but she never dreamed the entire nation would get caught up in the controversy.
As if becoming nationally recognized as "Virgin Val" isn't enough, Val's already hectic life starts to spin wildly out of control when bad boy Kyle Hamilton, lead singer for the hit rock band Tralse, decides to take her abstinence as a personal challenge.
How can a girl stay true to herself when this year's Sexiest Man Alive is doing everything in his power to win her over?
My review: This one I read on a spur of the moment. I saw it on Kindle Unlimited and figured I'd give it a go. I'm glad I did.
In this book we follow Valerie "Virgin Val" Jensen during her high school years. At the beginning of this one Val is dumped by her boyfriend of three months because she was a Virgin and wanted to save herself until marriage. Good on you Val!
The following day at school her now ex Zach has moved on swiftly to another girl – the schools resident "bike" you could say – and Val is the laughing stock of her school because of it, however, Val gets her own back and she does it in the greatest way.
She stands on a table and announces that she's a Virgin and will be waiting until she's married and that's basically why she got dumped and then rubs it in a little with her ex who she walked in to see sucking face with his new girl. From that moment on she is called Virgin Val and becomes the laughing stock of her school once more.
Val has a best friend called Cara who is there for her during the issues she has, they go to a concert of a band consisting of a senior from their school. Kyle Hamilton – he's arrogant, good looking, sarcastic and the lead singer to boot, he has a thing for Legs (his nickname for Val) and pretty much makes it his mission to get her in the sack when he finds out she's a virgin.
They originally want Tralse to play at their high school summer fair and Kyle makes sure they refuse at least until Val issues him a challenge by insulting him. Their relationship is really tense throughout the entire book – Val doesn't think much of him in the slightest and he just wants in her knickers because her "V-card" is the biggest challenge.
Val begins this campaign V is for Virgin and also brings in A is for Abstinence for those who have already lost their virginity but regret doing it and wish to abstain from sex and she is surprised to see how many people there are who abstain. Kyle wrote her a song and turned up to play the concert, that song becomes a big hit.
Val's V is for Virgin campaign goes viral and she spends a lot of time doing things for that especially seeing as she designed some jewelry to sell at the fair. Cara – who is a big Tralse and Shane fan – ends up in a relationship with Shane and neglects her friendship with Val in favour of fame as Shane is the lead guitarist for the band.
Cara loses her virginity with Shane and doesn't tell Val, an argument ensues and Cara manages to exploit Val at a Tralse concert for fame. Their friendship is pretty much over (I am a strong believer in chicks before dicks and bros before hos, at the end of a relationship all you have is your friends. Don't lose them).
Overall, I found few mistakes and they weren't major mistakes, merely editing errors. I found the story to be well written, an interesting plot and characters I could get along with (mostly) it's a story of a teenage girl who wants to keep her virtue and manages to keep it despite the trials and tribulations that she goes through – she has to deal with a man who acts like he hates her but wants nothing more than to get in her pants.
She makes a point of saying that if you don't want to have sex before you're ready then you don't have to, she makes it her mission to show young people everywhere that it's okay to not want to have sex if you're not ready or if you want to wait until marriage.
It's a short story that has as many good times as it does bad; it wasn't chock full of lovey dovey romance and poorly written smut. It was a short that made a point.
My rating: 5 stars