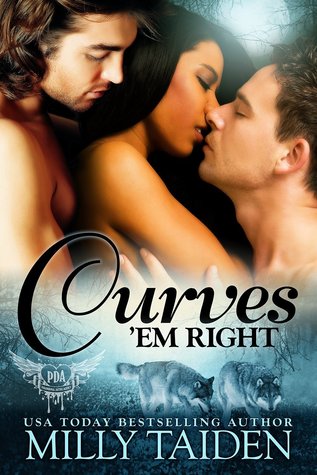 Publication date: November 25th, 2014
Format: Kindle, 186 pages
Synopsis: A BBW in search of love + two sexy wolf shifters ready to claim her as their mate = Sizzling Ménage Romance
Daniella Flores is looking for a good man. A man who will accept her as she is and go crazy for her curves. So far she's had no luck in the romance department and is worried she might never find the right one. When Mrs. Wilder of the PDA offers to help, Dani is all for trying anything. Mrs. Wilder promises to find her love, romance and hot sex. What woman in her right mind would say no to that?
Kane and Blake have been searching for a mate to complete their Alpha triad. There's just one problem: they've yet to find a woman they both want. Not to worry, Kane's mother comes to the rescue and brings in the PDA. Unfortunately for them, Mrs. Wilder has something up her sleeve and it's not a bra. When they meet their mysterious date, they know she's the woman they need.
A masquerade ball brings Dani and the shifters together. The two men who are really good friends with Dani's overprotective older brother. She'll get one chance to finally live the fantasy night she's always wanted with the wild wolves. Besides, it's not like they could really want her for a mate. It will take some maneuvering for Kane and Blake to keep Dani, not lose their friend and their pack, and prove her curves are the only ones they want.
Reader Warning: This book contains panty-melting sex (the kind that makes you need fudge and a cold shower), adult language (we like some freaky dirty talk), and violence. If this is not the kind of stuff you like to read, skip this book. However, if you like dirty, raunchy sex with two men on one curvy sarcastic girl, then this is right up your alley. Enjoy!
My review: Aww yeah.  Enough testosterone to choke a donkey front and center, thank you very much!
This is the fourth and currently the final installment of the Paranormal Dating Agency (you can read my reviews of the previous installments here: #1, #2 & #3) and this is apparently a standalone.  I find that a little bit hard to believe as not only is it considered #4 in the series but there's also a recurring character (Mrs Wilder) in this one, not arguing against it though.
This one has a recurring theme from the first installment Twice the Growl and its the Alpha Triad.  An Alpha, an Omega and their missing third that completes the Triad.  It follows the same sort of plot line as the first installment – two men need to find their third before their pack is stable, she's a BBW with a cake addiction (again), they're two hot men with enough dirty talk and mild fetishes to make me think: oh yes please.  Who doesn't love dirty talker?
I've read some "dirty talker" books and thought "yeah the ten year old at the bus stop has a dirtier mouth than this character" but Kane and Blake have got dirty talking down pat and they've got the balls to back their statements up to boot.
They 'originally' meet Daniella at a masquerade ball courtesy of Mrs Wilder and after they get a bit freaky with a swing (I'm talking three-way and facials), it turns out they actually know Daniella and oh no! Can't fuck her now.  I made a promise to her brother. Sorry but screw the brother, you want this girl? She wants you both? Fucking take her. Ahem.
Things kind of go downhill from that meeting at least until Kane and Blake man up and go after the girl – who has turned into a beautiful woman – they've both wanted for many years but couldn't have.  Until now.
Cue the romance, the wining and dining and the mouths like sailors and the really hot sex. The character development in this installment was stronger than in the others and I felt the relationship that developed between the characters made it a better story than previously. Still it was a tad rushed in terms of sexual relationship but then again, if you got it you got it right?
My rating: 4 stars