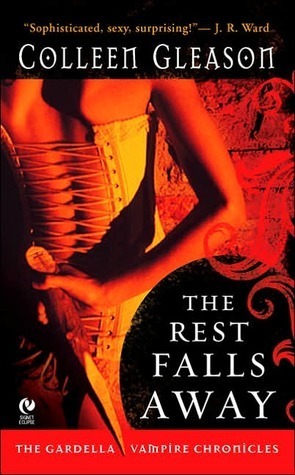 Book Synopsis: In every generation, a Gardella is called to accept the family legacy of vampire slaying, and this time, Victoria Gardella Grantworth is chosen, on the eve of her debut, to carry the stake. But as she moves between the crush of ballrooms and dangerous, moonlit streets, Victoria's heart is torn between London's most eligible bachelor, the Marquess of Rockley, and her enigmatic ally, Sebastian Vioget. And when she comes face to face with the most powerful vampire in history, Victoria must ultimately make the choice between duty and love.
Why I recommend it: It's like Buffy the Vampire Slayer in the Regency period.  It's a strange combination of genres but it's written so well that I just can't argue with it.
Have you ever seen the Hallowe'en episode of Buffy where everybody's costume turns them into whatever their costume is?  Buffy wears a regency gown to impress Angel and she ends up turning into a meek and mild young miss from Victorian times?  The Rest Falls Away is just like that – only Victoria Gardella still kicks vampire butts and takes names.
I'm a fan of vampire books; I'm a fan of Regency books (usually in the form of Regency romance *swoon*) but to have a combination and for me not to get weirded out by it in the slightest? Kudos to you Colleen Gleason!
The Rest Falls Away follows the story of Victoria Gardella, heiress to the Gardella legacy of vampire hunting.  The Gardella line is always a female and there are very few male vampire hunters – there's a couple (my favourite is Maximilian Pesaro) but they're few and far between.  The plot line is one filled with intrigue and danger but it's also coupled with the fact that Victoria is also trying to get married and so she is out in the ton attending parties and having dances with men in an attempt to fulfill both sides of her life.
It's written to the point that there is a seamless transition from ballroom to back alley slaying and back coupled with writing that doesn't jump from one end of the spectrum to the other.  The characters are well written and are easy to get along with the majority of the time and have the dialogue to mesh their relationships together like a jigsaw puzzle.
In between slaying vampires and trying to catch herself an eligible bachelor, Victoria finds herself learning the ways of the Slayer from a fellow Slayer – albeit an older model. There is a special piece of jewellery that helps to lessen the effects of the vampire stay they come into contact with which I thought was a nice twist. Not so much on the garlic front like a lot of vampire stories.
There's a pretty good twist at the end of this book which immediately made me want to read the second in the series. Fortunately for me, I'd been bought the second as a gift so I could move on quickly.
All in all, I really enjoyed the characters, the individual twists on modern vampire stories and surprisingly there wasn't a lot of romance in this book which I also thought was very refreshing. That isn't to say there is none at all in the series because there is and it's a doozy.
Ladies. Gents. Get yourself sample of this book please, I beg of you.
My verdict: 5 stars
For lovers of: Regency romance, vampire slayers with attitude and pretty stakes.
The Author: Born in Detroit, Colleen Gleason spent most of her adult life in Michigan. She attended the University of Michigan in Ann Arbor, receiving her BA in English, and later went on to obtain her MBA from the University of Michigan in Flint.
After more than fifteen years of sales, marketing, and management experience in the health care industry, Colleen began her own health insurance agency, which she owned and operated for several years. However, her passion has always been writing fiction, and in late 2005, she sold her first two books to New American Library, a division of The Penguin Group.
Colleen currently lives near Ann Arbor and writes full-time.