Title: Throne of Glass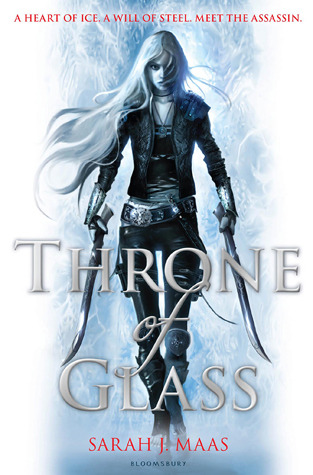 Author: Sarah J. Maas
Series: Throne of Glass #1
The Verdict: ★★★★★
Genres: Fantasy, Young Adult, High Fantasy
Publication details: August 2nd, 2012 by Bloomsbury
Format: Kindle, 404 pages
 All images link back to their respective Goodreads page
Book Synopsis:
Meet Celaena Sardothien. Beautiful. Deadly. Destined for greatness.
In the dark, filthy salt mines of Endovier, an eighteen-year-old girl is serving a life sentence. She is a trained assassin, the best of her kind, but she made a fatal mistake: she got caught. Young Captain Westfall offers her a deal: her freedom in return for one huge sacrifice. Celaena must represent the prince in a to-the-death tournament—fighting the most gifted thieves and assassins in the land. Live or die, Celaena will be free. Win or lose, she is about to discover her true destiny. But will her assassin's heart be melted?
---
My review: I finally got around to reading Throne of Glass and what a story!  I think that without reading The Assassin's Blade first, I may have got a little bit irritated by a small lack of information for example: what did Celaena do to get put in Endovier? Who was Sam to Celaena? I didn't feel like the answers to those questions in Throne of Glass were provided or in enough detail for me to be able to concretely say that I knew what I had missed.
Despite those little bits I loved Throne of Glass and thought the writing to be fantastic and the plot line unique in its own right.  There were a lot of secondary characters introduced in Throne of Glass that were not in The Assassin's Blade and I thought they were written really well; I especially liked Chaol's character the most, I thought he was just gruff and serious enough to warrant a little bit of extra TLC.
The plot line itself revolves around Celaena being released from the salt mines of Endovier in order to compete in a contest to become the King's Assassin – a position that to be fair I thought she deserved wholeheartedly despite the fact that I could happily spit in the King's eye.
The majority of the story is her getting back to optimum health and back into training and kicking as and taking names as Adarlan's Assassin's is wont to do. But mixed in with this training there are new friendships being built, bad things to kill and a love triangle to die for. The love triangle is Celaena, Chaol Westfall – Captain of the Guard – and Prince Dorian – Prince of Adarlan and the character dynamic between all three is superb.  I have a strong hope (no spoilers please everyone who has read the rest of the story) that Chaol gets off his butt, pulls his finger out and gets with Celaena.
Magic was outlawed a long time ago when the King became the King but there so many twists in this book that on occasion I couldn't make head nor tail of it all.  Magic comes back and it comes back in worst possible way and at the worst possible time too but Celaena fights back – literally – with the aid of the First Queen of Adarlan, Chaol and Princess Nehemia.
All very hoodoo-esque but it's a wonderfully written piece of work.  I'm umming and ahhing over whether to read the next two in the series or wait until late August and read the new one straight after.  I don't feel like there is much more that I can say about this book that hasn't already been said.