This is a weekly meme hosted by Taking on a World of Words.  You can participate by answering three simple questions.
The Three Ws are:
What are you currently reading?
What did you recently finish reading?
What do you think you'll read next?
All images link back to their respective Goodreads page.
What am I currently reading?
I started reading Born in Blood by Alexandra Ivy on my Tuesday morning commute, it's actually not that bad of a story so far.  I've only read a few chapters as my commute is a grand total of seven minutes long but it's good. From what I can gather so far, it follows the story of a "freak" – a necromancer/diviner with the ability to witness a murdered person's last moments and it also follows the Sergeant involved who despite everyone else's hatred of the "freaks" appears to have a hard-on for Callie Brown.  I think he's got his own "gift" to share.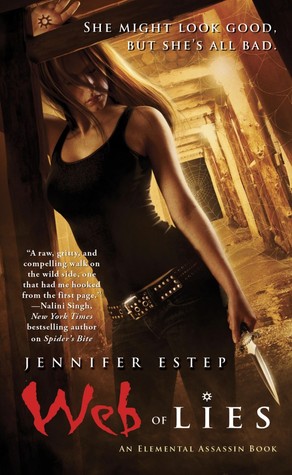 I've also been reading Web of Lies by Jennifer Estep for the past few weeks, I fell in love with Gin Blanco, Finn, Sophia, Jo-Jo and Donovan Caine in the first book of the series; Jennifer has created characters that I can agree with and the way they're all written is brilliantly done.
There's the perfect balance of everything that is good in a great character with them all.
What did I recently finish reading?
In the past week I've only read three books (seven if you want to get technical with novellas).  The first I finished since last weeks WWW Wednesday is Driven by K. Bromberg. With over 20,000 5 and 4 star ratings I thought that I'd read this one, I finally got around to it and gave it 4 stars myself.  To  begin with, I found it really hard to get into, I just felt like I wasn't being given enough information to warrant the continuation – however, if I'd given up on it I'd have missed out on a pretty decent book.
Next on the list was Masters of Seduction Volume One by various authors.  It was a small collection of novellas from the likes of Lara Adrian, Donna Grant, Laura Wright and Alexandra Ivy.  I've read at least one book from each of those authors and I felt that the novellas – though short and to the point – were excellent. They followed the stories of four Incubi Masters from four different Houses.  Frankly, it was seductive and I'll be purchasing Volume Two soon.
Down London Road by Samantha Young was next and I had a little bit of trouble with it.  I finished it on Monday night after starting it Saturday
morning which isn't bad but it was hard for me to read. Not because it was badly written because it wasn't at all, but because it had some sensitive subject material in it that I was not aware of and it threw me for a loop. Despite this, it was a very well written continuation of the On Dublin Street series and I am likely to get the next in the series Before Jamaica Lane.  A review will probably follow in the next few days if I can get around to writing it out before the weekend.
What do I think I'll read next?
I'll probably read Affliction by River Savage next, the first in the series was brilliant, I actually had Affliction before I had Incandescent and I knew from the sample I read that I couldn't read Affliction without reading Incandescent first as they follow on from each other with character crossover galore.
Anything with an angel in is on my list by default, make that a fallen angel and I'm all over it.  Bond With Me by Anne Marsh has been in my TBR pile for months but I've never got round to reading it.  Hopefully, I can read this one sooner rather than later.
Judging by the synopsis on Goodreads it has a sort of Incubi-esque feel to it and to be fair,
I like a good angel story and I like a good Incubi story.  I hope that Anne Marsh has taken the paranormal/supernatural side of this story and has steered it away from the contemporary romance side.
I think next up has also got to be Grave Intentions by Lori Sjoberg. It's a Grim Reaper story and I do like a good Grim Reaper story. It seems to have a good little twist to it judging by the synopsis on Goodreads and the reviews it also has.
I thought I'd try a new layout for this weeks post, what do you think? Do you prefer this or the previous layout?
What are you reading and rating this week?
Leave your WWW links and comments below 🙂