This is a weekly meme hosted by Taking on a World of Words.  You can participate by answering three simple questions.
The Three Ws are:
What are you currently reading?
What did you recently finish reading?
What do you think you'll read next?
All images link back to their respective Goodreads page.

What am I currently reading?
I haven't got around to reading any of Circus of the Damned by Laurell K. Hamilton but to be fair that one is strictly a re-read series this year so I don't mind if it takes me a while.  Focusing on the new books is key to completing my challenge.
I am also reading Commanding the Tides by Michelle M. Pillow which is the second installment in the Lords of the Abyss trilogy. Already this one is shaping up to be better than the first one however, I will reserve my judgement until after I've finished it.
What did I recently finish reading?
First to be finished in the past seven days is The Mighty Hunter by Michelle M. Pillow. I was a little bit disappointed with this novella – not with the length of the novella but with the actual content.  You can find my review here.
Second to be finished was Blood Trinity by Sherrilyn Kenyon and Dianna Love; I was pleasantly surprised by this book. I'm used to Sherrilyn's other works where each book is about a different character but there is character cross-over but I know from reading the blurb of Alterant that the Belador series is about one main character and several secondary characters.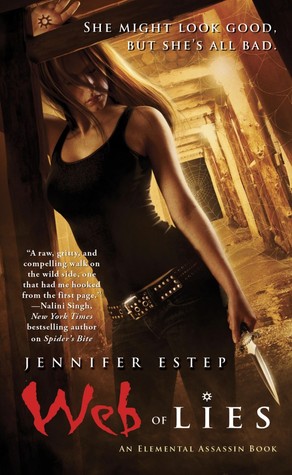 To be honest, I'm quite looking forward to reading Alterant.
I have finally got around to finishing Web of Lies by Jennifer Estep, it's been in my currently reading pile for weeks and it's taken me ages to get around to it. I had kind of forgotten how much I loved the characters in this series until I picked the book back up and dove into the world of Gin Blanco.  Once again, I was not disappointed at all by this author.
What do I think I'll read next?
Next up is going to be Captive of the Deep by Michelle M. Pillow purely so I can finish the trilogy off.  I have hope that it will be a good end to the series but we shall see.
Dauntless by Jack Campbell is probably on there somewhere. I bought the entire six book series for £6 a few months ago and it's been festering in my TBR pile for that length of time. My partner has read this series as well as I think three of the spin-off series' and he recommends that I read them – I'll get there eventually.
I'll also get around to reading Warship by Joshua Dalzelle.  Again this is a book that my partner recommends, he really enjoyed it and is waiting impatiently for the next installment.  It's slightly too sci-fi for my tastes but we shall see if I enjoy it.