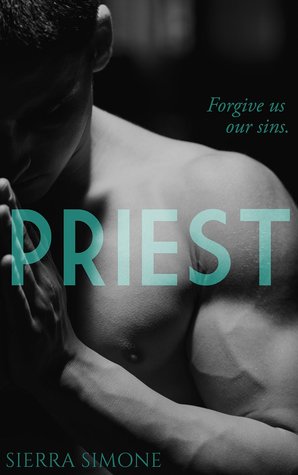 Title: Priest
Author: Sierra Simone
Series: Standalone
The Verdict: 
For: Lovers of taboo subjects, contemporary romance and mild BDSM
Genres: Contemporary romance, erotic romance
Publication details: June 29th, 2015
Format: Kindle, 247 pages
 All images link back to their respective Goodreads page
***This book is not suitable for under 18s and contains multiple taboo subjects***
***This review contains some spoilers, some of which are in white, please highlight these passages to see them***
Synopsis
There are many rules a priest can't break.
A priest cannot marry. A priest cannot abandon his flock. A priest cannot forsake his God.
I've always been good at following rules.
Until she came.
My name is Tyler Anselm Bell. I'm twenty-nine years old. Six months ago, I broke my vow of celibacy on the altar of my own church, and God help me, I would do it again.
I am a priest and this is my confession.
---
Review
I'm a huge lover of a strong opening scene – I don't think it gets any stronger than this one from Priest:
"There are many rules a priest can't break.
A priest cannot marry. A priest cannot abandon his flock. A priest cannot forsake his God.
I've always been good at following rules.
Until she came.
Several months ago, I broke my vow of celibacy on the altar of my own church, and God help me, I would do it again.
I am a priest and this is my confession."
†
My first thoughts on reading that opening scene (which has more to it I might add, I've just taken my favourite snippets) was "oh sweet Jesus." Then I immediately felt kinda bad for blaspheming despite my not being religious in any way, shape or form.  The subject matter of this book is quite taboo in a lot of countries and in a lot of ways and I was a bit hesitant to read it because I didn't want it to be written wrong or with the wrong context, I didn't find that at all.
The basis of Priest is following a Catholic priest as he breaks his vows and falls in love – it is primarily a love story but it has quite a bit of sex thrown in there as well as some drama and intrigue to boot. Now, a couple of reviews have been quite harsh for this book and I agree to an extent – who the hell gets turned on by eyelashes for Pete's sake – but the other parts of the book were very good.
This book wasn't overly religious; it wasn't trying to push religion on to the reader which I thought was quite good and I quite liked Father Bell's comment to Poppy Danforth –"I don't want you to feel pressured to explore the Catholic Church for any reason other than genuine interest or curiosity."  It made it seem alright for the reader to not be interested in the church.
As a support system, Father Bell gave quite a few good pieces of advice:
"I need to know that everything will be okay," she continued quietly. "That I will be able to live with myself." (Poppy in confession)
"You may not ever be able to get out of bed in the morning with that security.  That moment of okay may never come.  All you can do it try to find a new balance, a new starting point.  Find whatever love is left in your life and hold on to it tightly. And one day, things will have gotten less gray, less dull. One day, you might find that you have a life again. A life that makes you happy."
†
Throughout the book we experience everything from Father Bell's POV which I thought was fantastic – there are too few romance books from the male perspective and the majority are from the females.  Priest would have sounded completely wrong if it had come from Poppy's perspective, there were a few chapters here and there (maybe one or two) which were from Poppy's perspective but it was strictly her confession to Father Bell.
It wasn't written with the wrong emphasis on the wrong things, it was primarily a love story with its own unique backgrounds – Poppy was a Ivy League, posh, privileged good girl who ran away and joined a strip club as a dancer, Tyler Bell was a college graduate who joined the clergy as his own way of repenting and to help the clergy realise that there is a lot of abuse between the priests and their parishioners.
Tyler Bell and his family were tragically affected by one such a priest who had been sexually abusing his sister for years, his sister committed suicide (Tyler found her) and she left information that brought the perpetrator to a semblance of justice.  I'm not going to debate the logic or anything else with regards to this and quite frankly, I'd gloss over the topic in minute detail with no chances for debate if I could, but it plays an important role in why Tyler became a priest and plays a significant role throughout the story.
†
The story itself – the relationship that builds between them – is at first purely sexual and it's good sex but then Tyler realises that he has fallen in love with her (we all know how much I dislike a quick romance and quick relationship development, but I feel that Sierra wrote this right).  Before Tyler and Poppy do the dirty deed – in this case it is actually dirty, considering – Tyler becomes quite romantic:
"we surged past every barrier – stranger and stranger, priest and penitent, Tyler and Poppy. We were simply male and female, as God has made us, Adam and Eve, in the most elemental and fundamental form. We were biology, we were creation incarnate, and I saw the moment she felt it too – that we were fused somehow."
Although he feels this, he also feels like shit later on – he broke his vow of celibacy on the altar of his own church! I don't blame him; he's nearly thrown away everything that is important to him for a woman he barely knows. But, his friend, an older lady who cooks him food occasionally throws his first sermon back at him:
"The sins of the flesh are bad, but they are the least bad of all sins… that is why a cold, self-righteous prig, who goes regularly to church, may be far nearer to hell than a prostitute." Quite astute if you ask me.
I have many, many quotes from this book that I like as you can see but my favourites are below:
"One and a half inches of damnation, and all I could think about was sinking deeper into hell."
"why the hell did damnation feel so fucking good."
"and then she ground out one word, and that was it, I was lost. Lost to my control, to my vows, to anything other than the need to mark this woman in the most primitive and the basest way possible.  One word. Yours."
"God is bigger than our sins.  God wants you as you are – stumbling, sinning, confused."
†
What I liked the most though, is that despite it all, despite Tyler being threatened by Poppy's ex, despite the substantial risk he took with falling for her, he still gives up his life to be with her – only to have her tear his heart out, rip it to shreds and burn the pieces. Tyler – ready to propose to her, walks in to her kissing her ex and he leaves; he leaves the country and goes on a spiritual journey to find himself.
Then I get my happily ever after. Tyler comes back and he hunts Poppy down.  It's very sweet and very happy.
Overall, the writing style was very clear and concise, the dialogue on point and the plot different.  I didn't like a few parts of it, especially where he gets hard over her eyelashes – I'm sorry, just no. But apart from those small bits and pieces that were dotted about, I did enjoy this book, don't judge a book by its cover, don't judge a book by its reviews because you'll never know what you're missing until you read it.
I don't think another full-length novel could have been gleaned from this, maybe a short novella to explain what happens in the future could be something I'd be interested in in the future but as a standalone novel, I think this was a success for me.
†