Title: 
Affliction
Author: River Savage
Series: Knights Rebels MC #2
The Verdict: 
For: Lovers of motorcycle clubs, revenge and love that surpasses all
Genres: Contemporary romance
Publication details: November 29th, 2014
Format: Kindle, 317 pages
 All images link back to their respective Goodreads page
***Please note that this review contains spoilers and sensitive subject matter.  This book is not for under 18's and includes sensitive  subject matter including domestic abuse, cancer, death, violence etc***
Synopsis
Three little words are all it takes to rip his world apart. Lost in his own affliction, Sy has been living in a darkness that he doesn't ever want to let go of.
Until she arrives and shines her light so bright that nothing else mattered.
She was only in it for the chase, for the thrill of capturing the unattainable.
But what happens when her world shatters around her, spiraling her into the darkness beside him?
Can his affliction be her resurrection?
Or will two lost souls living in the depths of deception let it destroy them?
---
Review
"Acute Myelogenous Leukemia.
Chemotherapy wasn't successful.
Kiera isn't yours."
Three words seem to be the theme of the prologue and as you can see above they're doozies, right off the bat you feel bad for Sylas and the theme continues throughout the book. Sylas left the town of Rushford ten years ago to get married, they had a child who tragically passed away from leukaemia but the badness doesn't end there; Sylas finds out that Kiera the daughter that he had raised as his own wasn't biologically his after seven years and what a way to find that out.
To add to that, Katie his wife attempted suicide multiple times after the death of their daughter, as well as developing drug and alcohol addiction in order to cope.  Unfortunately after an extended time caring for her, Sylas opted to put her into a rehab centre and then left and moved back to Rushford.
∞
Sylas returns to Rushford and becomes a member of the Knights Rebels motorcycle club and the main man at the clubs Tattoo shop Ink Me, it is in Ink Me where we meet the woman who will inevitably be the downfall of Sylas – Holly. We first briefly meet Sy and Holly in Incandescent (you can read my review here) and I got a distinct "I don't know what I want" vibe from Sylas and this continues in Affliction from Sylas and Holly to an extent later on.
There is a reoccurring theme in this book: drama. First Sylas' daughter is not his daughter, she sadly passes away from cancer, his wife tries to commit suicide multiple times as well as having a drug addiction; then later in the book his relationship with Holly such as it is is particularly strained due to her kidnapping by Kadence's crazy ex and the ultimate loss of their unborn baby (yeah those sessions of unprotected sex made a baby) and the fact that Holly hides the knowledge of the conception and the loss from Sylas (I call bitch on that one). It's just drama everywhere!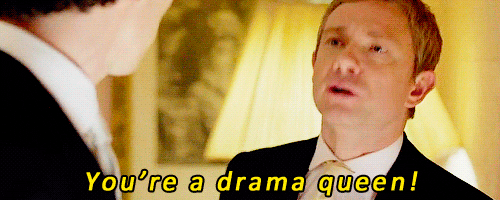 I understand the need Holly as a character felt to conceal the knowledge of the baby from Sylas, he wasn't exactly the most open of characters nor did he give off the I want to be a father vibe for obvious reasons but I disagree with the length of time she chose to conceal it, and I disagree with the authors decision to keep her away from therapy that could have helped her deal with the attempted murder of her and the murder of her baby a little better.
I do however, like and appreciate the way that Sylas handles the situation –  and by situation I mean the fact that she is the complete opposite to her usual self. He does everything he can to make her feel better but he also gives her a bit of attitude to show that he's not afraid of her. He doesn't treat her with kid gloves like everyone else has since she recovered. I liked that.
∞
The book also deals with the subject of domestic abuse which is another of the many in in this book. Another of the motorcycle club arranges to escort women from domestic abuse relationships to safety which I think is very good. I can tell straight away that there is an underlying issue with regards to that but I like the fact that they are doing what they can to help – particularly considering that the police don't do a lot to help.
Despite all the bad that happens in this book there is some happiness – Kadence and Nix get married, there's babies all round, Holly and Sy get together in the end and abused women are saved I can't help but feel that there was too much going on in the book – the sex scenes, however, were not lacking and had just the right amount of steam and amusement to counteract the bad.
Although I liked Affliction a lot and as always I found the writing style to flow pretty well with no major hiccups and the dialogue was on point with just the right amount of humour versus seriousness I felt like it was crammed with too much going on at once with minimal breaks in between.
I get that Affliction is a pretty dark book and I understand fully where the author took the story, I feel it could have done with a bit more happy and a bit less doom and gloom.
Despite these reservations, I gave Affliction 5 stars which I felt it deserved. I look forward to reading Desertion next week before Infatuation releases on the 20th.