This meme formerly hosted by MizB, is now hosted by Sam over at Taking on a World of Words.
Why not join in? Just answer the following three questions in a post and then put a link to that post in the Comments over at Taking on a World of Words.
The questions are:
What are you currently reading?
What did you recently finish reading?
What do you think you'll read next?
All images link back to their respective Goodreads page.
I'm kinda back! I've finally got back on the reading wagon 🙂 I've also finally finished the Rook and Ronin 7-book bundle!
What am I currently reading?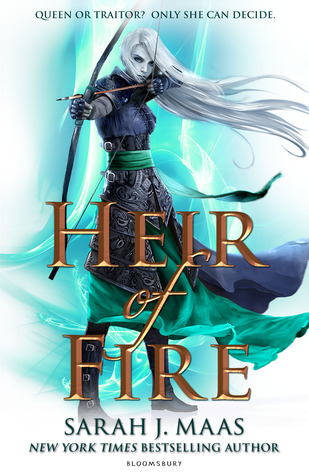 Goodreads Synopsis: She was the heir of ash and fire, and she would bow to no one.
Celaena Sardothien has survived deadly contests and shattering heartbreak—but at an unspeakable cost. Now she must travel to a new land to confront her darkest truth…a truth about her heritage that could change her life—and her future—forever.
Meanwhile, brutal and monstrous forces are gathering on the horizon, intent on enslaving her world. To defeat them, Celaena must find the strength to not only fight her inner demons but to battle the evil that is about to be unleashed.
The king's assassin takes on an even greater destiny and burns brighter than ever before in this follow-up to the New York Timesbestselling Crown of Midnight.
Current completion: Page 30 with 6 tag markers
∞
Goodreads Synopsis: 
Celebrate the Regency Bicentenary with lashings of high society scandal and seduction! Part 1 of this sparkling collection is available now, and includes 2 FREE BOOKS!
Current completion: 15% – Finished the first book of 12 and I'm about 80% through the second book. I've been reading this for a week or so.
What did I recently finish reading?

Goodreads Synopsis: 
Ford Aston is known for many things. Being an emotionless, messed up bastard, a freakishly smart social outcast, and a cold, domineering master who keeps "pets" instead of girlfriends.
And after Rook broke his heart, he plans to keep it that way.
Ashleigh is known for nothing, and that's exactly what she's got going for her. She's broke, stranded in the mountains with a three month old baby, and Ford Aston is screwing with her head.
Big. Time.
And she plans to mess with his right back.
It's a coy game at first, filled with flirting, and innuendo–but Ford soon realizes something is not quite right with Ashleigh. In fact, something is seriously, seriously wrong and the closer they get to their final destination, the closer Ford gets to the truth.
One night of devastation, self-loathing, and emptiness turns into the best thing that ever happened to Ford Aston. But one day of in-your-face reality threatens Ashleigh's whole existence.
My Verdict: ★★★★
∞
Goodreads Synopsis: Vampires. Werewolves. Beasts that hunt in the night…When New Orleans Detective Jane Hart investigates her first official homicide case, she never expects to have her world ripped apart. But the murder she's investigating is part of a deadly war between vampires and werewolves…and now Jane is caught in that eternal battle. A battle that can't end well.
Werewolf Aidan Locke has been running New Orleans for years. It's his job to keep the vamps out of the city. But when a Master Vampire comes to town, determined to unleash hell, Aidan knows it's time to fight with all the fury of his pack. Beast versus vamp, until the last breath. Then he meets Jane…
One look, one taste, and Aidan knows that Jane is far more than she seems. Far more than she even knows herself to be. She's important in the paranormal war, not a pawn to be used, but a queen to be won. And if he can't keep her at his side, if he can't stop the darkness from descending on the town…then Jane Hart will become not just a fierce cop, not some guardian, but something deadlier. Darker. Aidan will fight heaven and hell to change her fate. To change their fate because he is more than just a predator.
And Jane is more than prey. Far more.

My Verdict: ★★★★
 ∞
Goodreads Synopsis: Tori McAdams was a sensible woman. She didn't believe in hocus-pocus, she didn't believe in ghosts, and she definitely didn't believe in vampires…not until the night she was attacked by one. Alone, starving and afraid, she doesn't know what's happening but at least she had somebody to turn to…
Declan Reilly was normally the last person she'd go to for help, but now he was the first on her list. He can help; she knows he can. She never could have planned on what happens next, though…the sexy detective is so much more than he appears.
Warning: This book contains violence, sex, more violence, a maniacal murderer, sex, more violence, and a menage or two thrown in for good measure. There are also sighs, happy endings, a romance, a hero, a heroine, and a little bit of falling in love.
My Verdict: ★★★
∞
Spencer Shrike is a plotter. Known for his ingenious, albeit illegal, plans that keeps the Team running efficiently and out of jail, he carries this same love of order into his personal life. He's kept his long-time main squeeze on the sidelines for years as he builds the Shrike Bikes empire.
Veronica Vaughn is an explosion ready to happen. Ronnie lives in the here and now. She lives for today. She knows what she wants, and she wants it now. And right now Ron the Bomb Vaughn wants Spencer shrike to leave her the hell alone. She's done playing his game. She's done waiting around. She's moving forward with her own plots, plans, and dreams and she's moving forward tonight. Ron the Bomb is finally—finally—gonna get some satisfaction.
Too bad Spencer Shrike is standing in her way.
My Verdict: ★★★★ 
∞
 Goodreads Synopsis: Spencer Shrike is a man with a plan. Get in. Get out. Move on. He loves Ron the Bomb, and her safety is the only thing on his mind these days. But life is a tricky bastard, and conning criminals for the better part of ten years brings its own set of problems.
Sure, Rook lied her way out of a sticky situation, covering for crimes Ronin, Ford, and Spencer committed, and getting them all off scot-free in the process. But not everyone is buying Rook's story, and Spencer is desperate to figure out who's in town setting them up for a fall.
Veronica the Bombshell Vaughn has put up with Spencer Shrike's shit for years and where has it gotten her? A big fat nowhere. No ring, no house, no kids, and no promises. In fact, Spencer is worse than ever-completely distant and moody. She's done sitting at home, pining over a man she can't have. But she's not opposed to fighting for him.
Ron the Bomb fights hard and she fights dirty, so she's willing to do whatever it takes to get Spencer's attention. But now there's another man in town with his eye on her. He's got secrets too, but unlike Spencer, Bobby Mansi is more than willing to let Veronica in on them. The entire Rook and Ronin series comes full circle.
Every con, every lie, and every skeleton in the closet is back for one final shot at vengeance and the only way to set it right… is to get out the guns.
My Verdict: ★★★★ 
What do I think I'll read next?
Goodreads Synopsis:  To reach greatness you must step on bodies, and many brothers lie trodden in my wake. I've walked from pawn to player and I'll win this game of ours, though the cost of it may drown the world in blood…
The land burns with the fires of a hundred battles as lords and petty kings fight for the Broken Empire. The long road to avenge the slaughter of his mother and brother has shown Prince Honorous Jorg Ancrath the hidden hands behind this endless war. He saw the game and vowed to sweep the board. First though he must gather his own pieces, learn the rules of play, and discover how to break them.
A six nation army, twenty thousand strong, marches toward Jorg's gates, led by a champion beloved of the people. Every decent man prays this shining hero will unite the empire and heal its wounds. Every omen says he will. Every good king knows to bend the knee in the face of overwhelming odds, if only to save their people and their lands. But King Jorg is not a good king.
Faced by an enemy many times his strength Jorg knows that he cannot win a fair fight. But playing fair was never part of Jorg's game plan.