This meme formerly hosted by MizB, is now hosted by Sam over at Taking on a World of Words.
Why not join in? Just answer the following three questions in a post and then put a link to that post in the Comments over at Taking on a World of Words.
The questions are:
What are you currently reading?
What did you recently finish reading?
What do you think you'll read next?
All images link back to their respective Goodreads page.
I've been a bad bibliophile this week.
What am I currently reading?
Goodreads Synopsis: 
Celebrate the Regency Bicentenary with lashings of high society scandal and seduction! Part 1 of this sparkling collection is available now, and includes 2 FREE BOOKS!
Current completion: 19% – Finished the first and second book
∞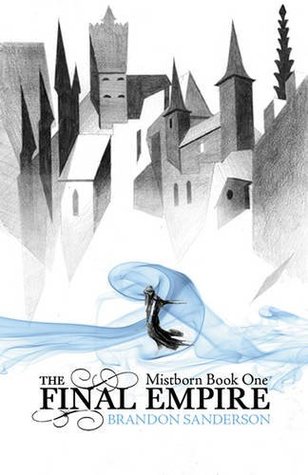 Goodreads Synopsis: In a world where ash falls from the sky, and mist dominates the night, an evil cloaks the land and stifles all life. The future of the empire rests on the shoulders of a troublemaker and his young apprentice. Together, can they fill the world with color once more?
In Brandon Sanderson's intriguing tale of love, loss, despair and hope, a new kind of magic enters the stage — Allomancy, a magic of the metals
Current completion: Page 426 of 647 and loving it still
Why? It's the Book of the Month for It's Not Just a Book Club. Gave me the perfect excuse to read it again
∞
  Goodreads Synopsis:
The 'unparalleled romantic adventure'* of Nalini Singh's New York Times bestselling series continues as a new dawn begins for the Psy-Changeling world . . .
The Psy-Changeling world has undergone a staggering transformation and now stands at a crossroads. The Trinity Accord promises a new era of cooperation between disparate races and groups. It is a beacon of hope held together by many hands: Old enemies. New allies. Wary loners.
But a century of distrust and suspicion can't be so easily forgotten and threatens to shatter Trinity from within at any moment. As rival members vie for dominance, chaos and evil gather in the shadows and a kidnapped woman's cry for help washes up in San Francisco, while the Consortium turns its murderous gaze toward a child who is the embodiment of change, of love, of piercing hope: A child who is both Psy . . . and changeling.
To find the lost, protect the vulnerable – and save Trinity – no one can stand alone. This is a time of loyalty across divisions, of bonds woven into the heart and the soul, of heroes known and unknown standing back to back and holding the line. But is an allegiance of honour even possible with traitors lurking in their midst?
Current completion: 52% and this book has put me through all sorts of emotions so far and I've got a ways to go yet. I'm savouring this and not rushing it.  My review will be up on the blog 5th July as part of the UK Blog Tour along with a giveaway (UK only I'm afraid) for a copy of Allegiance of Honour.
Why? It's Nalini Singh of course! I was incredibly lucky to receive an Advanced printing and I've been trying not to read it so I don't damage it – luckily my pre-order for kindle arrives tomorrow so I will devour it.  My review will be up 5th July as part of the 10 years of Psy-Changeling/Release of Allegiance of Honour Blog Tour, where I'll also be giving away a copy of Allegiance of Honour to one lucky winner so stay tuned!
What did I recently finish reading?

I'm totally ashamed of myself. I've been so busy with work and RL that I haven't finished a book in a week, I'm just so busy I'm savouring my books and the peace I get when I can read them.
What do I think I'll read next?
Not a clue. Another thing that's not working out for me, I hoped to read Stifled this past week but I've been devouring Allegiance of Honour instead.