This meme formerly hosted by MizB, is now hosted by Sam over at Taking on a World of Words.
Why not join in? Just answer the following three questions in a post and then put a link to that post in the Comments over at Taking on a World of Words.
The questions are:
What are you currently reading?
What did you recently finish reading?
What do you think you'll read next?
All images link back to their respective Goodreads page.
What am I currently reading?
Goodreads Synopsis: 
Celebrate the Regency Bicentenary with lashings of high society scandal and seduction! Part 1 of this sparkling collection is available now, and includes 2 FREE BOOKS!
Current completion: 19% – Finished the first and second book. This has kind of taken a back burner in the reading list though I get in a few pages every now and then I'm considering putting it on hiatus until further notice.
∞
Goodreads Synopsis: The impossible has been accomplished. The Lord Ruler – the man who claimed to be god incarnate and brutally ruled the world for a thousand years – has been vanquished. But Kelsier, the hero who masterminded that triumph, is dead too, and now the awesome task of building a new world has been left to his young protégé, Vin, the former street urchin who is now the most powerful Mistborn in the land, and to the idealistic young nobleman she loves.
As Kelsier's protégé and slayer of the Lord Ruler she is now venerated by a budding new religion, a distinction that makes her intensely uncomfortable. Even more worrying, the mists have begun behaving strangely since the Lord Ruler died, and seem to harbor a strange vaporous entity that haunts her.
Stopping assassins may keep Vin's Mistborn skills sharp, but it's the least of her problems. Luthadel, the largest city of the former empire, doesn't run itself, and Vin and the other members of Kelsier's crew, who lead the revolution, must learn a whole new set of practical and political skills to help. It certainly won't get easier with three armies – one of them composed of ferocious giants – now vying to conquer the city, and no sign of the Lord Ruler's hidden cache of atium, the rarest and most powerful allomantic metal.
As the siege of Luthadel tightens, an ancient legend seems to offer a glimmer of hope. But even if it really exists, no one knows where to find the Well of Ascension or what manner of power it bestows.
Current Completion: Page 72 of 763 and loving it
∞
Goodreads Synopsis: Dimitri would like nothing more than to live a low-key life in Naples, Italy. His girlfriend, Syd, has other plans. After three months of researching, she is positive she has found a jinn on a killing spree in San Diego, California. Since Syd gave Dimitri the one thing he thought was out of reach, he feels obligated to use his ill-gained talents for her cause.
A few hours back in the US proves that Dimitri and Syd didn't quite make the clean escape they had thought. As they trail the elusive jinn, someone else trails them. What should have been a simple trip to confirm once and for all if the jinn are living among humans, instead reveals a community keeping dark secrets.
Unfortunately for Dim, the only way out is in.
Current Completion: 40%
What did I recently finish reading?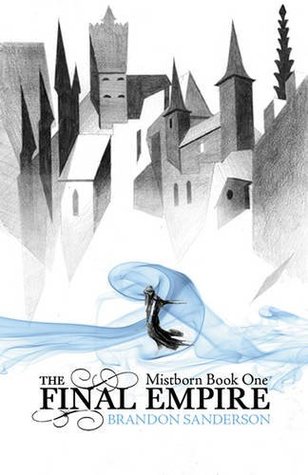 Goodreads Synopsis: In a world where ash falls from the sky, and mist dominates the night, an evil cloaks the land and stifles all life. The future of the empire rests on the shoulders of a troublemaker and his young apprentice. Together, can they fill the world with color once more?
In Brandon Sanderson's intriguing tale of love, loss, despair and hope, a new kind of magic enters the stage — Allomancy, a magic of the metals
My verdict: ★★★★★ As a second re-read this only got better.
∞
 Goodreads Synopsis:
The 'unparalleled romantic adventure'* of Nalini Singh's New York Times bestselling series continues as a new dawn begins for the Psy-Changeling world . . .
The Psy-Changeling world has undergone a staggering transformation and now stands at a crossroads. The Trinity Accord promises a new era of cooperation between disparate races and groups. It is a beacon of hope held together by many hands: Old enemies. New allies. Wary loners.
But a century of distrust and suspicion can't be so easily forgotten and threatens to shatter Trinity from within at any moment. As rival members vie for dominance, chaos and evil gather in the shadows and a kidnapped woman's cry for help washes up in San Francisco, while the Consortium turns its murderous gaze toward a child who is the embodiment of change, of love, of piercing hope: A child who is both Psy . . . and changeling.
To find the lost, protect the vulnerable – and save Trinity – no one can stand alone. This is a time of loyalty across divisions, of bonds woven into the heart and the soul, of heroes known and unknown standing back to back and holding the line. But is an allegiance of honour even possible with traitors lurking in their midst?
My verdict: ★★★★★ Holy shit. This book. My review is up 5th July as part of the UK Blog Tour and they'll also be a UK only giveaway (sorry guys) for a Hardback of Allegiance of Honour. 
What do I think I'll read next?
Not a clue 🙂