This meme formerly hosted by MizB, is now hosted by Sam over at Taking on a World of Words.
Why not join in? Just answer the following three questions in a post and then put a link to that post in the Comments over at Taking on a World of Words.
The questions are:
What are you currently reading?
What did you recently finish reading?
What do you think you'll read next?
All images link back to their respective Goodreads page.
What am I currently reading?
Goodreads Synopsis: A bloody massacre, a hunt for an assassin.
An Invitation to the criminal elite of Elendel from the brother of the city's governor to an auction for his vote in the senate becomes a death sentences for all involved when an unknown assailant slaughters everyone in attendance.
Waxillium Ladrian investigates and is shocked to discover that the perpetrator may be a kandra calling herself Bleeder. As the servants of Harmony, the god of the religion Wax himself adheres to, the kandra usually operate in secret, and many people think them merely a myth. Now one of the kandra has gone rogue, which shouldn't be possible.
Wax, Wayne and the brilliant Marasi must track down Bleeder and keep her from assassinating the governor of Elendel and plunging the city into chaos.
Current Completion: Page 311 of 385
∞
Goodreads Synopsis: The stunning YA debut from internationally bestselling author Cecelia Ahern.
Celestine North lives a perfect life. She's a model daughter and sister, she's well-liked by her classmates and teachers, and she's dating the impossibly charming Art Crevan.
But then Celestine encounters a situation in which she makes an instinctive decision. She breaks a rule and now faces life-changing repercussions. She could be imprisoned. She could be branded. She could be found FLAWED.
In this stunning novel, bestselling author Cecelia Ahern depicts a society in which perfection is paramount and mistakes are punished. And where one young woman decides to take a stand that could cost her everything.
Current Completion: 8%
What did I recently finish reading?

Goodreads Synopsis:
In the three hundred years since the events of the Mistborn trilogy, science and technology have marched on. Scadrial is now on the verge of modernity, with railroads, electric lighting, and even the first steel-framed skyscrapers racing for the clouds.
Yet even with these advances, the magics of Allomancy and Feruchemy continue to play a role in this reborn world. Out in the frontier lands known as the Roughs, they are crucial tools for those attempting to establish order and justice.
One is Waxillium Ladrian, a rare Twinborn who can Push on metals with his Allomancy and use Feruchemy to become lighter or heavier at will. After twenty years in the Roughs, Wax must now put away his guns and assume the duties incumbent upon the head of a noble house—until he learns the hard way that the mansions and elegant tree-lined streets of the city can be even more dangerous than the dusty plains of the Roughs.
My verdict: ★★★★★ Amazing storyline! 300 hundred years after the events of the original trilogy and we meet loads of new characters and they're great. Wayne is amazing.
∞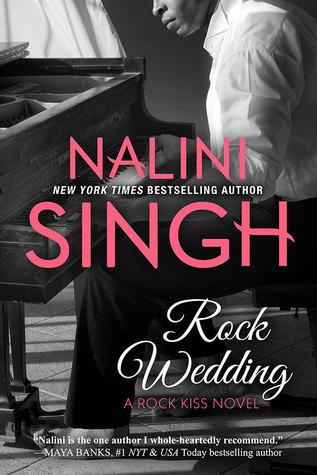 Goodreads Synopsis:
After a lifetime of longing for a real family, Sarah Smith thought she'd finally found her home with rock star Abe Bellamy, even if she knew Abe didn't love her the way she loved him. But their brief relationship, filled with tragedy and heartache, nearly destroyed her. Alone, emotions in turmoil, and already shaky self-esteem shattered, Sarah struggles to pick up the pieces in the wake of their divorce.
Abe knows he's to blame for the end of his marriage. Caught in a web of painful memories, he pushed away the best thing in his life – the sexy, smart woman he adores – breaking them both in the process. Then fate throws him a second chance to get things right, to prove to Sarah that she means everything to him. Abe desperately wants that second chance at love…even if he knows he doesn't deserve it.
But can he convince Sarah – now strong and independent without him – to risk her wounded heart one more time?
My verdict: ★★★★ Review is up on Friday 22nd July as part of The Rock Stars of Romance Book Tour
I also finished Spider's Nemesis by Jennifer Estep
What do I think I'll read next?
I'm on a Mistborn and a Jennifer Estep roll this week again so if I finish Shadows of Self I'll be moving on to: