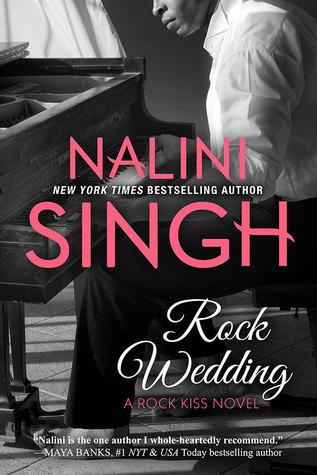 Title: Rock Wedding | Series: Rock Kiss #4 | Author: Nalini Singh | Publisher: INscribe Digital | Publication date: July 19th 2016 | Num. Pages: 345 | Genre: Contemporary Romance
★★★★
4 stars – An amazing story of a second chance romance
Many thanks to INscribe Digital and Netgalley as well as The Rock Stars of Romance for giving me an e-copy of this book in exchange for an honest review.
Disclaimer: I somehow ended up winning a promotional giveaway from TRSOR for an ARC of Rock Wedding a few days before I was miraculously approved for an ARC from INscribe Digital via Netgalley that id requested a week prior to entering the promotional giveaway. Both ARCs are exactly the same and I was taken by surprise to win the giveaway AND be approved via Netgalley.  This coincidence has not affected my review in any way and this review is entirely honest.
---
Synopsis
New York Times bestselling author Nalini Singh continues her Rock Kiss series with a hot, sweet, emotional contemporary romance about love and forgiveness…
After a lifetime of longing for a real family, Sarah Smith thought she'd finally found her home with rock star Abe Bellamy, even if she knew Abe didn't love her the way she loved him. But their brief relationship, filled with tragedy and heartache, nearly destroyed her. Alone, emotions in turmoil, and already shaky self-esteem shattered, Sarah struggles to pick up the pieces in the wake of their divorce.
Abe knows he's to blame for the end of his marriage. Caught in a web of painful memories, he pushed away the best thing in his life – the sexy, smart woman he adores – breaking them both in the process. Then fate throws him a second chance to get things right, to prove to Sarah that she means everything to him. Abe desperately wants that second chance at love…even if he knows he doesn't deserve it.
But can he convince Sarah – now strong and independent without him – to risk her wounded heart one more time?
---
Review
I can't express how excited I was when I heard that Abe and Sarah's story was going to be a novel rather than the novella it was going to be. We hear throughout the rest of the series about Abe and Sarah but frankly it was just snippets here and there – in Rock Wedding we finally get the back story and the present into future story.
It follows on from Rock Redemption quite nicely and all the characters from the previous books are involved as usual.
It's a typical contemporary romance book with a twist of a second chance romance. In the beginning we learn of how Abe and Sarah split up and it bothered me more than I thought it would – Abe let his addictions get the better of him and it turned him into a first class arse hole, the things he said to Sarah were quite evil and generally uncalled for.
On the flip side Sarah gave off doormat vibes like no tomorrow. It appeared that she let Abe treat her like shit without trying to fight back and my original opinion of her was not high but I'm pleased to say it improved.
The beginning of the book held a lot of potentially controversial subjects, some of which were a tad upsetting but I feel they were integral to the plot and that without them the plot couldn't have progressed how it did.
∞
The general plot of the story is your basic second chance romance – a previously married couple gets married again after a surprise and a prolonged courting. It was sweet in that their relationship literally started over again and it was nice to see the actual courtship of the couple rather than the bitter breakup and subsequent spiral out of control.
The explanations of why Abe acted like he did in the past (overlooking the drug and alcohol addictions) were well written and gave a good insight into his personality (once clean of drugs) and it made me like him so much more despite his overall assholishness in the beginning.
I liked how we were privy to private moments in their lives and not just Abe and Sarah but the others in Schoolboy Choir. I liked the first wedding but felt that by the end of the book four weddings were just a few too many even though it goes well with the book title – I had hoped it would just be Abe and Sarah considering but alas.
The writing style was as always on point though at times, maybe a little over descriptive, it wasn't necessarily a bad thing.  The dynamic between all the characters was again typical work of Nalini Singh and the characters as a whole were great.
I think my biggest issue with this book was Sarah's overall lack of spine at the beginning of the book and the many descriptions of Abe's biceps. Although they didn't detract from the overall fuzzy feeling I got from the book.
Despite this I enjoyed the book quite a bit and I think, now that Abe and Sarah is "over" I'm excited to read the next book which is out in 2017 and hopefully features one of Gabriel's brothers.
---
Author Information
Nalini Singh is the New York Times and USA Today bestselling author of the Psy-Changeling, Guild Hunter, and Rock Kiss series. She lives and works in beautiful New Zealand, and is passionate about writing.
If you'd like to explore her other books, you can find lots of excerpts and free short stories on her website.Slave to Sensation is the first book in the Psy-Changeling series, while Angels' Blood is the first book in the Guild Hunter series. The Rock Kiss books are all stand alone and can be read in any order.
STALK HER:  Website | Facebook | Twitter | Goodreads
---
Haven't read this series yet?
Start the Rock Kiss Series NOW!
Rock Addiction (Book One) Rock Kiss Series
Amazon US: http://amzn.to/WqA2rj
Amazon UK: http://amzn.to/1G9piir
Nook: http://bit.ly/1t5T7Zt
iTunes:  http://bit.ly/1ng9zE9
Kobo: http://bit.ly/1lPqB19
Rock Courtship (Book 1.5) A Rock Kiss Novel:
Amazon US: http://amzn.to/XXjjxG
Amazon UK: http://amzn.to/1G9pmhZ

iBooks: http://bit.ly/1lzgNIi
Nook: http://bit.ly/1COgaC6
Kobo: http://bit.ly/1pEeCy6
Rock Hard (Book Two) Rock Kiss Series
Amazon US:  http://amzn.to/1BXhHWB
Amazon UK: http://amzn.to/1G9oslz
iBooks:  http://bit.ly/1utQDee
Nook: http://bit.ly/1KEyBIx
Kobo: http://bit.ly/1APyqnU
Rock Redemption (Book Three) Rock Kiss Series
Amazon US: http://amzn.to/1hP7G54
Amazon UK: http://amzn.to/1XBZsOB
iBooks: http://apple.co/1ITi0i7
Kobo: http://bit.ly/1VIYoXo