This meme formerly hosted by MizB, is now hosted by Sam over at Taking on a World of Words.
Why not join in? Just answer the following three questions in a post and then put a link to that post in the Comments over at Taking on a World of Words.
The questions are:
What are you currently reading?
What did you recently finish reading?
What do you think you'll read next?
All images link back to their respective Goodreads page.
---
What am I currently reading?
Goodreads Synopsis: The Lost Fleet continues its perilous journey home.
Badly damaged and low on supplies, the Alliance Fleet is raiding Syndic mines for raw materials-and Captain "Black Jack" Geary hopes they can continue to remain one step ahead of their enemies. But the Syndics are the least of Geary's worries when he learns of the existence of aliens with the power to annihilate the human race.
Current Completion: 18% Chapter 3
∞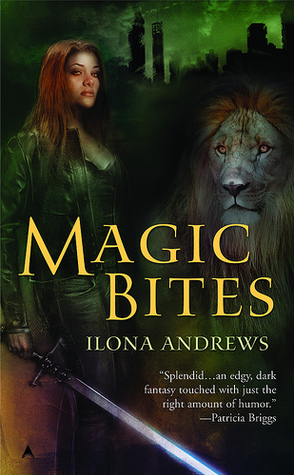 Goodreads Synopsis: Atlanta would be a nice place to live, if it weren't for the magic…
When the magic is up, rogue mages cast their spells and monsters appear, while guns refuse to fire and cars fail to start. But then technology returns, and the magic recedes as unpredictably as it arose, leaving all kinds of paranormal problems in its wake.
Kate Daniels is a down-on-her-luck mercenary who makes her living cleaning up these magical problems. But when Kate's guardian is murdered, her quest for justice draws her into a power struggle between two strong factions within Atlanta's magic circles.
The Masters of the Dead, necromancers who can control vampires, and the Pack, a paramilitary clan of shapechangers, blame each other for a series of bizarre killings—and the death of Kate's guardian may be part of the same mystery. Pressured by both sides to find the killer, Kate realizes she's way out of her league—but she wouldn't have it any other way…
Current Completion:
What did I recently finish reading?

I had a really productive weekend and finished 5 books in 2 days – which considering I was in a reading rut for a few days is really good.
Goodreads Synopsis:
"We should expect this young woman to be more powerful than our average novice, possibly even more powerful than the average magician."
This year, like every other, the magicians of Imardin gather to purge the city of undesirables. Cloaked in the protection of their sorcery, they move with no fear of the vagrants and miscreants who despise them and their work-—until one enraged girl, barely more than a child, hurls a stone at the hated invaders…and effortlessly penetrates their magical shield.
What the Magicians' Guild has long dreaded has finally come to pass. There is someone outside their ranks who possesses a raw power beyond imagining, an untrained mage who must be found and schooled before she destroys herself and her city with a force she cannot yet control.
My verdict: ★★★★
∞
Goodreads Synopsis:
The stunning YA debut from internationally bestselling author Cecelia Ahern.
Celestine North lives a perfect life. She's a model daughter and sister, she's well-liked by her classmates and teachers, and she's dating the impossibly charming Art Crevan.
But then Celestine encounters a situation in which she makes an instinctive decision. She breaks a rule and now faces life-changing repercussions. She could be imprisoned. She could be branded. She could be found FLAWED.
In this stunning novel, bestselling author Cecelia Ahern depicts a society in which perfection is paramount and mistakes are punished. And where one young woman decides to take a stand that could cost her everything.
My verdict: ★★★★ My full review is here
∞
Goodreads Synopsis:
Once the seeds of desire are sown . . .
Finally free of her suffocating marriage, widow Daisy Ellis Craigmore is ready to embrace the pleasures of life that have long been denied her. Yet her newfound freedom is short lived. A string of unexplained murders has brought danger to Daisy's door, forcing her to turn to the most unlikely of saviors . . .
Their growing passion knows no bounds . . .
Ian Ranulf, the Marquis of Northrup, has spent lifetimes hiding his primal nature from London society. But now a vicious killer threatens to expose his secrets. Ian must step out of the shadows and protect the beautiful, fearless Daisy, who awakens in him desires he thought long dead. As their quest to unmask the villain draws them closer together, Daisy has no choice but to reveal her own startling secret, and Ian must face the undeniable truth: Losing his heart to Daisy may be the only way to save his soul.
My verdict: ★★★★★ I love a book set in London but make it a steampunk type of London with some paranormal creatures in it and I'm all over it.
∞
 Goodreads Synopsis:
Mistborn: Secret History is a companion story to the original Mistborn trilogy.
As such, it contains HUGE SPOILERS for the books Mistborn (The Final Empire), The Well of Ascension, and The Hero of Ages. It also contains very minor spoilers for the book The Bands of Mourning.
Mistborn: Secret History builds upon the characterization, events, and worldbuilding of the original trilogy. Reading it without that background will be a confusing process at best.
In short, this isn't the place to start your journey into Mistborn. (Though if you have read the trilogy—but it has been a while—you should be just fine, so long as you remember the characters and the general plot of the books.)
Saying anything more here risks revealing too much. Even knowledge of this story's existence is, in a way, a spoiler.
There's always another secret.
My verdict: ★★★★★ I was disappointed when I thought Mistborn was over for another year and then I remembered I had THIS! Although it's only a novella it was amazing, it opened up a whole new can of worms and it was great seeing some returning characters.
∞
Goodreads Synopsis:
'When the veil fell, any half bloods not strong enough to withstand Chaos were torn apart. Some, like me and my brother, survived The Fall. Most did not.
That's the good news. The bad news saw a whole other world try and devour ours. Demons, we call them. They came in countless waves. Destroying. Killing. Many people thought it was the end…
The Fall lasted a week.
Tens of thousands died.
Hell almost claimed our world as its own.
And then, from one day to the next, it was over. The veil came back, stronger than ever. I'm not sure if anyone knows how it was put right. But I do know it's been six months since The Fall, me and my brother are on the run, and the leftover demons aren't the most dangerous things in LA.
We are.'
My verdict:  ★★★★ My full review is here
∞
Goodreads Synopsis: The Selection gets fierce as rivals stake their claim on the Prince.
Six girls, one life-changing prize…
America Singer will leave her pre-destined life for a world of glamour and luxury, if she wins…
But surviving The Selection is tough. Rivals are battling to become Prince Maxon's bride as the threat of rebel violence just beyond the palace walls escalates into war.
Only six girls are left and sworn friendships are tested to breaking point. America's feelings for Maxon grow stronger, but she suspects darker mysteries in his royal past. With ex-lover Aspen waiting for her in the shadows, where do her loyalties truly lie?
My verdict: ★★★★ Review will be up 3rd/4th August
---
I also put An Ember in the Ashes on hiatus because I'm seriously not feeling it at all.
What do I think I'll read next?
Having just finished The Elite and enjoying it I will be moving on to The One. I only hope that this is just as good as the others.