This meme formerly hosted by MizB, is now hosted by Sam over at Taking on a World of Words.
Why not join in? Just answer the following three questions in a post and then put a link to that post in the Comments over at Taking on a World of Words.
The questions are:
What are you currently reading?
What did you recently finish reading?
What do you think you'll read next?
All images link back to their respective Goodreads page.
---
What am I currently reading?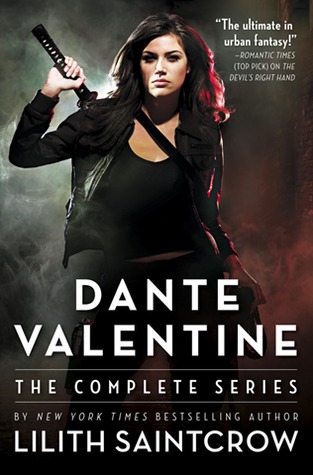 Goodreads Synopsis: Necromancer. Bounty hunter. Killer.
Dante Valentine has been all three in her life. But in the beginning, she was a Necromancer for hire. And while she was choosy about her jobs, there were just some she couldn't turn down. Like when the Devil showed up at the door and offered her a deal. Her life – in exchange for the capture and elimination of a renegade demon. But how do you kill something that can't die?
Dante Valentine, one of urban fantasy's hottest series, is compiled into one volume for the first time. Included in this omnibus edition are: Working for the Devil, Dead Man Rising, The Devil's Right Hand, Saint City Sinners, and To Hell and Back.
Dante Valentine Novels
Working for the Devil
Dead Man Rising
Devil's Right Hand
Saint City Sinners
To Hell and Back
Current Completion: Page 114 of 1267 – I'm about half way through Working for the Devil and I'm enjoying it. It's got just the right amount of paranormal and badassery.
∞
 Goodreads Synopsis:
The world has become a battleground in a war which no side is winning. But for those determined to retain power, the prolonged stalemate cannot be tolerated so desperate measures must be taken.
Max Halloran has no idea. He's living the brief and glorious life of a hunter-killer pilot. He's an ace in the air, on his way up through the ranks, in love, and with his family's every need provided for in thanks for his service, Max has everything . . .
. . . right up until he hears something he shouldn't have, and refuses to let it go. Suddenly he's risking his life and the lives of all those he cares about for a secret which could expose corruption at the highest levels, and change the course of the war.
One man, one brief conversation . . . a whole world of trouble . . .
Current Completion: Page 78 of 416
This is an ARC which was provided to me by Gollancz in exchange for an honest review.  It releases on August 18th
∞
 Goodreads Synopsis: "I used to be probationary constable in that mighty army for justice known to all right-thinking people as the Metropolitan Police Service, and to everyone else as the Filth…"
Meet DC Peter Grant. He will show you his city. But it's not the capital that you see as you make your way from tube to bus, from Elephant to Castle. It's a city that under its dark surface is packed full of crime. And of magic. A city that you never suspected…
Gran't story starts when he tries to take a witness statement from a man who was already dead. And take him down a twisting, turning centuries' old mystery that reckons to set London on fire…
Current completion: 76% – I'll have this finished today as I've got half day at work and I'll have the review up later on tonight also.  I'm majorly enjoying this book,
What did I recently finish reading?

Goodreads Synopsis:
The Lost Fleet continues its perilous journey home.
Badly damaged and low on supplies, the Alliance Fleet is raiding Syndic mines for raw materials-and Captain "Black Jack" Geary hopes they can continue to remain one step ahead of their enemies. But the Syndics are the least of Geary's worries when he learns of the existence of aliens with the power to annihilate the human race.
My verdict: ★★★★ This book was incredibly hard for me to finish. It took me well over two weeks which to be honest, is bad when I can finish a book the same length in 4 hours or less.  The chapters were just so long but it was a good book all the same.
∞
Goodreads Synopsis: Plagued by a war between magic and technology, Atlanta has never been so deadly. Good thing Kate Daniels is on the job.
Kate Daniels may have quit the Order of Merciful Aid, but she's still knee-deep in paranormal problems. Or she would be if she could get someone to hire her. Starting her own business has been more challenging than she thought it would be—now that the Order is disparaging her good name. Plus, many potential clients are afraid of getting on the bad side of the Beast Lord, who just happens to be Kate's mate.
So when Atlanta's premier Master of the Dead calls to ask for help with a vampire on the loose, Kate leaps at the chance of some paying work. But it turns out that this is not an isolated incident. Kate needs to get to the bottom of it—and fast, or the city and everyone dear to her might pay the ultimate price…
My verdict: ★★★★★ These are honestly some of the easiest reads ever, the books just flow so well.
∞
I also finished Thread of Death (Elemental Assassin, #5.5) by Jennifer Estep and An Ill-Advised Rescue (Kate Daniels, #5.8) by Ilona Andrews.
---
What do I think I'll read next?
I'll be moving on to the next in the Elemental Assassin series by Jennifer Estep, the next Kate Daniels book and quite possibly I'll start Moon Over Soho by Ben Aaronovitch OR The Martian by Andy Weir, I'm not going to lie I'm veering towards The Martian.