This meme formerly hosted by MizB, is now hosted by Sam over at Taking on a World of Words.
Why not join in? Just answer the following three questions in a post and then put a link to that post in the Comments over at Taking on a World of Words.
The questions are:
What are you currently reading?
What did you recently finish reading?
What do you think you'll read next?
All images link back to their respective Goodreads page.
It's been a hectic week and I've not finished nearly as many as I would have liked but that's what a holiday does to you!  I've started more than I've finished and requested more ARCs than I should have and I've been colouring in more than I've been reading.
---
What am I currently reading?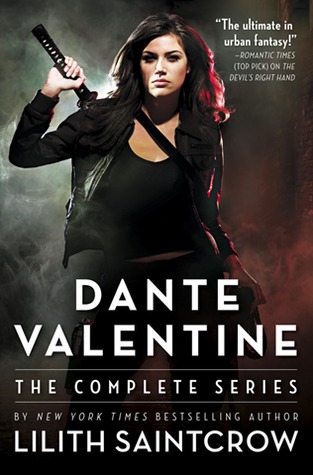 Goodreads Synopsis: Necromancer. Bounty hunter. Killer.
Dante Valentine has been all three in her life. But in the beginning, she was a Necromancer for hire. And while she was choosy about her jobs, there were just some she couldn't turn down. Like when the Devil showed up at the door and offered her a deal. Her life – in exchange for the capture and elimination of a renegade demon. But how do you kill something that can't die?
Dante Valentine, one of urban fantasy's hottest series, is compiled into one volume for the first time. Included in this omnibus edition are: Working for the Devil, Dead Man Rising, The Devil's Right Hand, Saint City Sinners, and To Hell and Back.
Dante Valentine Novels
Working for the Devil
Dead Man Rising
Devil's Right Hand
Saint City Sinners
To Hell and Back
Current Completion: Page 156 of 1267
∞
 Goodreads Synopsis:
The world has become a battleground in a war which no side is winning. But for those determined to retain power, the prolonged stalemate cannot be tolerated so desperate measures must be taken.
Max Halloran has no idea. He's living the brief and glorious life of a hunter-killer pilot. He's an ace in the air, on his way up through the ranks, in love, and with his family's every need provided for in thanks for his service, Max has everything . . .
. . . right up until he hears something he shouldn't have, and refuses to let it go. Suddenly he's risking his life and the lives of all those he cares about for a secret which could expose corruption at the highest levels, and change the course of the war.
One man, one brief conversation . . . a whole world of trouble . . .
Current Completion: Page 85 of 416 – A little slow going as I've been quite busy this past week.
This is an ARC which was provided to me by Gollancz in exchange for an honest review.  It releases on August 18th
∞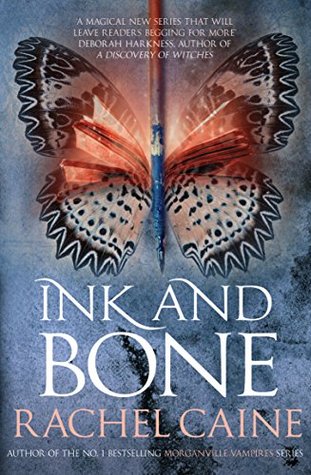 Goodreads Synopsis: In an exhilarating new series, New York Times bestselling author Rachel Caine rewrites history, creating a dangerous world where the Great Library of Alexandria has survived the test of time.…
Ruthless and supremely powerful, the Great Library is now a presence in every major city, governing the flow of knowledge to the masses. Alchemy allows the Library to deliver the content of the greatest works of history instantly—but the personal ownership of books is expressly forbidden.
Jess Brightwell believes in the value of the Library, but the majority of his knowledge comes from illegal books obtained by his family, who are involved in the thriving black market. Jess has been sent to be his family's spy, but his loyalties are tested in the final months of his training to enter the Library's service.
When his friend inadvertently commits heresy by creating a device that could change the world, Jess discovers that those who control the Great Library believe that knowledge is more valuable than any human life—and soon both heretics and books will burn…
Current completion: Page 62 of 368 and enjoying it immensely
∞
 Goodreads Synopsis: USA TODAY bestselling author Lauren Layne is the "queen of witty dialogue and sexy scenes" (Rachel Van Dyken)! Now, Sex and the City meets The Wedding Planner in The Wedding Belles, her sizzling brand new contemporary romance series about three ambitious wedding planners who can make any bride's dream come true… but their own.
Discovering her fiance is an international con man just moments before they exchange vows devastates celebrity wedding planner Brooke Baldwin's business—and breaks her heart. Now a pariah in Los Angeles, she seeks a fresh start in New York City and thinks she's found it with her first bridal client, a sweet—if slightly spoiled—hotel heiress. Then she meets the uptight businessman who's holding the purse strings.
Seth Tyler wishes he could write a blank check and be done with his sister Maya's fancy-pants wedding. Unfortunately, micromanaging the event is his only chance at proving Maya's fiance is a liar. Standing directly in his way is the stunning blonde wedding planner whose practiced smiles and sassy comebacks both irritate and arouse him. He needs Brooke's help. But can he persuade a wedding planner on a comeback mission to unplan a wedding? And more importantly, how will he convince her that the wedding she should be planning… is theirs?
Current Completion: 24% – I'm really enjoying this book. It's on par with the Stiletto and Oxford novels and I enjoyed those as well.
What did I recently finish reading?

Goodreads Synopsis:
"I used to be probationary constable in that mighty army for justice known to all right-thinking people as the Metropolitan Police Service, and to everyone else as the Filth…"
Meet DC Peter Grant. He will show you his city. But it's not the capital that you see as you make your way from tube to bus, from Elephant to Castle. It's a city that under its dark surface is packed full of crime. And of magic. A city that you never suspected…
Gran't story starts when he tries to take a witness statement from a man who was already dead. And take him down a twisting, turning centuries' old mystery that reckons to set London on fire…
My verdict: ★★★★ You can catch my review here
∞
Goodreads Synopsis: Perfect for fans of Alice Clayton and Emma Chase, Lauren Layne's Oxford series heats up in this story of forbidden desire as a brooding jock hoping for a comeback falls for a woman who's strictly off-limits.
A year ago, Jackson Burke was married to the love of his life and playing quarterback for the Texas Redhawks. Now he's retired, courtesy of the car accident that ruined his career—and single, after a nasty scandal torpedoed his marriage. Just as he's starting to get used to his new life as a health and fitness columnist for Oxford magazine, his unpredictable ex shows up on his doorstep in Manhattan. Jackson should be thrilled. But he can't stop thinking about the one person who's always been there for him, the one girl he could never have: her younger sister.
Mollie Carrington can't say no to Madison. After all, her older sister practically raised her. So when Madison begs for help in winning her ex-husband back, Mollie's just glad she got over her own crush on Jackson ages ago—or so she thought. Because as Mollie reconnects with Jackson, she quickly forgets all her reasons to stay loyal to her sister. Tempted by Jackson's mellow drawl and cowboy good looks, Mollie is sick and tired of coming in second place. But she can't win if she doesn't play the game.
My verdict: ★★★★ You can catch my review here
∞
 Goodreads Synopsis: Nuclear warfare uncovered a city under the permafrost in Antarctica, and the survivors called it Temperance. Milo Ketterling was taught these things thirteen hundred years after that tragedy.
Milo never wanted to join Senate.
He never wanted to know what existed outside of Temperance.
He never wanted to know what was in Johannesburg.
He never wanted to escape.
*novella serial approx. 25k words*
My verdict: ★★★ Bit of a weird one this part. I much preferred the first installment over this one.
---
What do I think I'll read next?
I'll be moving on to the next Kate Daniels book and quite possibly I'll start Moon Over Soho by Ben Aaronovitch OR The Martian by Andy Weir, I'm not going to lie I'm veering towards The Martian. I will also at some stage in the next week or so start a re-read of the Dark-Hunter series as I've SO much to catch up on it's unreal.
I've got a few ARCs I need to read also which I'll be moving on to quite quickly.