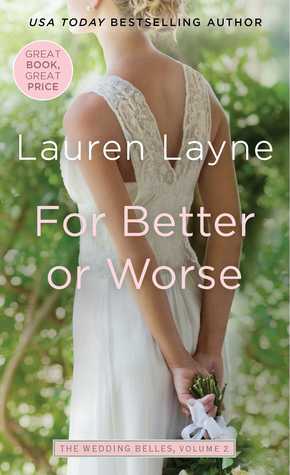 Title: For Better or Worse | Series: The Wedding Belles #2 | Author: Lauren Layne | Publisher: Pocket Books | Publication date: August 30th 2016 | Num. Pages: 368 | Genre: Contemporary Romance, Chick Lit
★★★★★
5 stars – Another great Lauren Layne book with characters to fall in love with
Many thanks to Netgalley and the publisher for providing me with a copy of this book in exchange for an honest review
---
Synopsis
Will a budding wedding planner and her bad boy neighbor stop banging heads and start hearing wedding bells in the sexy second novel in USA TODAY bestselling author Lauren Layne's irresistible new series that marries Sex and the City with The Wedding Planner?
When small-town girl Heather Fowler finally gets promoted from assistant to actual wedding planner, she's determined to make it as one of Manhattan's elite Wedding Belles. Unfortunately, her first client demands an opulent black-tie affair at the Plaza…in five months' time. Heather's days quickly become a flurry of cake tastings, dress-fittings, RSVP cards, and bridal tantrums. But what she's really losing sleep over is the live music blaring from her playboy neighbor's apartment all night.
Five years ago, Josh Tanner was an up-and-comer on Wall Street, complete with the penthouse and the migraines. But a grim cancer diagnosis made him realize there is more to life than the corner office. If only he could convince his pretty, workaholic neighbor to let loose, too. As Heather lets down her guard, Josh is surprised when he starts falling for the sweet, vulnerable woman hiding beneath those power suits. Soon, it's Heather's turn to convince Josh to take the biggest risk of all: love.
---
Review
For Better or Worse is the second of three in the Wedding Belles series and so far has been my favourite (though only 2 have been released) I loved Josh Tanner from the get go – as soon as his character popped up he was the one for me.
We meet Heather Fowler briefly in To Have and To Hold and her character in that book appears to be very blasé about love – she's all about the wedding planning – which isn't a bad thing until For Better or Worse.
Heather is a one track mind kinda gal and wedding planning is it. Her big dream and her reasoning behind that is due to the endless string of "The One" from her mother; I don't – in all honesty the first few times we hear from Heather's mother – like her, she gives me a bad vibe. But my opinion of her improves greatly the further the story progresses.
My all time favourite character in this book was Josh Tanner. He had the YOLO kind of attitude and the way he spent his life before Heather moved in next door was a "what I want when I want" mentality. He was very funny and kept me smiling throughout the book even when things were getting hard for him he still managed to retain his sense of humour.
It also felt a little like Josh was going through a mid – life crisis and wasn't 100% sure on where he was going in life. After a battle with cancer he'd taken to the "what I want when I want" mentality quite quickly but had also begun to feel like it wasn't enough.
His friendship with Heather was awesome – 4c and 4a were the nicknames floating around during almost every conversation – and their friendship didn't start off all that well but it turned into a budding friendship with benefits that ultimately (despite their refusals) led to love.
The book had just the right amount of seriousness and was – in my opinion – overpowered the great humourous relationship between Heather and Josh; despite their differences and the difficult times they managed to retain the great sense of humour throughout the story.
I really enjoy Lauren Layne's writing style and she's definitely my favourite "chicklit " author which considering I don't really like it an amazing feat. Her books have always got humour and great characters with witty banter and good back stories. The plots are quite unique as well and I can't wait until the next Wedding Belles book is out and the next Oxford one for that matter.