This meme formerly hosted by MizB, is now hosted by Sam over at Taking on a World of Words.
Why not join in? Just answer the following three questions in a post and then put a link to that post in the Comments over at Taking on a World of Words.
The questions are:
What are you currently reading?
What did you recently finish reading?
What do you think you'll read next?
All images link back to their respective Goodreads page.
I had an amazing bank holiday weekend and finished 5 books just on Saturday and Sunday.
---
What am I currently reading?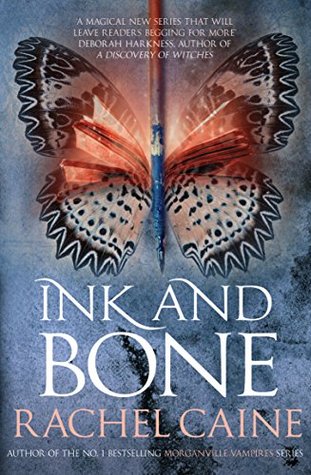 Goodreads Synopsis: In an exhilarating new series, New York Times bestselling author Rachel Caine rewrites history, creating a dangerous world where the Great Library of Alexandria has survived the test of time.…
Ruthless and supremely powerful, the Great Library is now a presence in every major city, governing the flow of knowledge to the masses. Alchemy allows the Library to deliver the content of the greatest works of history instantly—but the personal ownership of books is expressly forbidden.
Jess Brightwell believes in the value of the Library, but the majority of his knowledge comes from illegal books obtained by his family, who are involved in the thriving black market. Jess has been sent to be his family's spy, but his loyalties are tested in the final months of his training to enter the Library's service.
When his friend inadvertently commits heresy by creating a device that could change the world, Jess discovers that those who control the Great Library believe that knowledge is more valuable than any human life—and soon both heretics and books will burn…
Current completion: Page 165 of 368 and enjoying it immensely
∞
Goodreads Synopsis: In this stunning debut, author Scott Lynch delivers the wonderfully thrilling tale of an audacious criminal and his band of confidence tricksters. Set in a fantastic city pulsing with the lives of decadent nobles and daring thieves, here is a story of adventure, loyalty, and survival that is one part "Robin Hood", one part Ocean's Eleven, and entirely enthralling…
An orphan's life is harsh — and often short — in the island city of Camorr, built on the ruins of a mysterious alien race. But born with a quick wit and a gift for thieving, Locke Lamora has dodged both death and slavery, only to fall into the hands of an eyeless priest known as Chains — a man who is neither blind nor a priest.
A con artist of extraordinary talent, Chains passes his skills on to his carefully selected "family" of orphans — a group known as the Gentlemen Bastards. Under his tutelage, Locke grows to lead the Bastards, delightedly pulling off one outrageous confidence game after another. Soon he is infamous as the Thorn of Camorr, and no wealthy noble is safe from his sting.
Passing themselves off as petty thieves, the brilliant Locke and his tightly knit band of light-fingered brothers have fooled even the criminal underworld's most feared ruler, Capa Barsavi. But there is someone in the shadows more powerful — and more ambitious — than Locke has yet imagined.
Known as the Gray King, he is slowly killing Capa Barsavi's most trusted men — and using Locke as a pawn in his plot to take control of Camorr's underworld. With a bloody coup under way threatening to destroy everyone and everything that holds meaning in his mercenary life, Locke vows to beat the Gray King at his own brutal game — or die trying…
Current Completion: Page 80 of 513
What did I recently finish reading?

USA TODAY bestselling author Lauren Layne is the "queen of witty dialogue and sexy scenes" (Rachel Van Dyken)! Now, Sex and the City meets The Wedding Planner in The Wedding Belles, her sizzling brand new contemporary romance series about three ambitious wedding planners who can make any bride's dream come true… but their own.
Discovering her fiance is an international con man just moments before they exchange vows devastates celebrity wedding planner Brooke Baldwin's business—and breaks her heart. Now a pariah in Los Angeles, she seeks a fresh start in New York City and thinks she's found it with her first bridal client, a sweet—if slightly spoiled—hotel heiress. Then she meets the uptight businessman who's holding the purse strings.
Seth Tyler wishes he could write a blank check and be done with his sister Maya's fancy-pants wedding. Unfortunately, micromanaging the event is his only chance at proving Maya's fiance is a liar. Standing directly in his way is the stunning blonde wedding planner whose practiced smiles and sassy comebacks both irritate and arouse him. He needs Brooke's help. But can he persuade a wedding planner on a comeback mission to unplan a wedding? And more importantly, how will he convince her that the wedding she should be planning… is theirs?
My verdict: ★★★★ You can catch my review here
∞
Goodreads Synopsis: In the heart of Louisiana, the most powerful people in the South live behind elegant gates, mossy trees, and pleasant masks. Once every ten years, the pretense falls away and a tournament is held to determine who will rule them. The Acquisition is a crucible for the Southern nobility, a love letter written to a time when barbarism was enshrined as law.
Now, Sinclair Vinemont is in the running to claim the prize. There is only one way to win, and he has the key to do it — Stella Rousseau, his Acquisition. To save her father, Stella has agreed to become Sinclair's slave for one year. Though she is at the mercy of the cold, treacherous Vinemont, Stella will not go willingly into darkness.
As Sinclair and Stella battle against each other and the clock, only one thing is certain: The Acquisition always ends in blood.
Full disclosure: This book is a dark romance with elements of slavery, violence, BDSM, and super-hot sex. It is the first of a series and ends on a cliffhanger. If you're good with these caveats, enjoy.
My verdict: ★★★ You can catch my review here
∞
Goodreads Synopsis: When the Devil needs a rogue demon killed, who does he call?
The Player: Necromance-for-hire Dante Valentine is choosy about her jobs. Hot tempered and with nerves of steel, she can raise the dead like nobody's business. But one rainy Monday morning, everything goes straight to hell.
The Score: The Devil hires Dante to eliminate a rogue demon: Vardimal Santino. In return, he will let her live. It's an offer she can't refuse.
The Catch: How do you kill something that can't die?
My verdict: ★★★
∞
Goodreads Synopsis:
The world has become a battleground in a war which no side is winning. But for those determined to retain power, the prolonged stalemate cannot be tolerated so desperate measures must be taken.
Max Halloran has no idea. He's living the brief and glorious life of a hunter-killer pilot. He's an ace in the air, on his way up through the ranks, in love, and with his family's every need provided for in thanks for his service, Max has everything . . .
. . . right up until he hears something he shouldn't have, and refuses to let it go. Suddenly he's risking his life and the lives of all those he cares about for a secret which could expose corruption at the highest levels, and change the course of the war.
One man, one brief conversation . . . a whole world of trouble . . .
My verdict: ★★★★ Good but not really my cup of tea
∞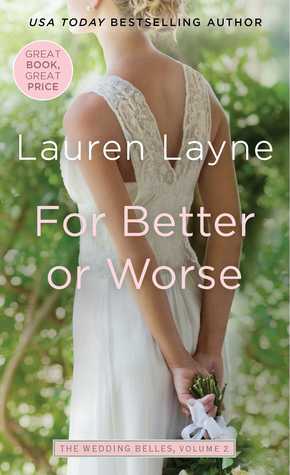 Goodreads Synopsis: Will a budding wedding planner and her bad boy neighbor stop banging heads and start hearing wedding bells in the sexy second novel in USA TODAY bestselling author Lauren Layne's irresistible new series that marries Sex and the City with The Wedding Planner?
When small-town girl Heather Fowler finally gets promoted from assistant to actual wedding planner, she's determined to make it as one of Manhattan's elite Wedding Belles. Unfortunately, her first client demands an opulent black-tie affair at the Plaza…in five months' time. Heather's days quickly become a flurry of cake tastings, dress-fittings, RSVP cards, and bridal tantrums. But what she's really losing sleep over is the live music blaring from her playboy neighbor's apartment all night.
Five years ago, Josh Tanner was an up-and-comer on Wall Street, complete with the penthouse and the migraines. But a grim cancer diagnosis made him realize there is more to life than the corner office. If only he could convince his pretty, workaholic neighbor to let loose, too. As Heather lets down her guard, Josh is surprised when he starts falling for the sweet, vulnerable woman hiding beneath those power suits. Soon, it's Heather's turn to convince Josh to take the biggest risk of all: love.
My verdict: ★★★★★ You can check out my review of this ARC here
∞
AND FINALLY!
Goodreads Synopsis: The "alpha author of paranormal romance"* presents a stunningly sensual collection of four all-new Psy-Changeling novellas, in which taboos are broken, boundaries are crossed, and instincts prove irresistible…
Echo of Silence
In a deep-sea station, Tazia Nerif has found her life's work as an engineer, keeping things running smoothly. But she wants nothing more than to break down the barrier of silence between her and her telekinetic Psy station commander…
Dorian
A changeling who can never shift lives a life of quiet frustration—until he learns how to let his leopard come out and play…
Partners in Persuasion
Still raw from being burned by a dominant female, wolf changeling Felix will never again risk being a plaything. But for dominant leopard Dezi, he's the most fascinating man she's ever met. She just has to convince this gun-shy wolf that he can trust the dangerous cat who wants to take a slow, sexy bite out of him…
Flirtation of Fate
Seven years ago, Kenji broke Garnet's heart. Now the wolf packmates have to investigate the shocking murder of one of their own. And the more Kenji sees of the woman Garnet has become, the deeper he begins to fall once more. But even his primal instincts are no match for the dark secret he carries…
*Booklist, starred review
My verdict: ★★★★★ Amazing. Took me 3 hours to read. I've waited a long, long time to finally read Kenji and Gem's story and it was AMAZING.
---
What do I think I'll read next?
Pass. I've got a few ARCs I need to read also which I'll be moving on to quite quickly. I will also continue my series re-read of the Kate Daniels series by Ilona Andrews but it's on the back-burner for the moment.