This meme formerly hosted by MizB, is now hosted by Sam over at Taking on a World of Words.
Why not join in? Just answer the following three questions in a post and then put a link to that post in the Comments over at Taking on a World of Words.
The questions are:
What are you currently reading?
What did you recently finish reading?
What do you think you'll read next?
All images link back to their respective Goodreads page.
It's been a mighty slow week. Only 2 new and 1 re-read finished and I'm only reading one book.
---
What am I currently reading?
Goodreads Synopsis: In this stunning debut, author Scott Lynch delivers the wonderfully thrilling tale of an audacious criminal and his band of confidence tricksters. Set in a fantastic city pulsing with the lives of decadent nobles and daring thieves, here is a story of adventure, loyalty, and survival that is one part "Robin Hood", one part Ocean's Eleven, and entirely enthralling…
An orphan's life is harsh — and often short — in the island city of Camorr, built on the ruins of a mysterious alien race. But born with a quick wit and a gift for thieving, Locke Lamora has dodged both death and slavery, only to fall into the hands of an eyeless priest known as Chains — a man who is neither blind nor a priest.
A con artist of extraordinary talent, Chains passes his skills on to his carefully selected "family" of orphans — a group known as the Gentlemen Bastards. Under his tutelage, Locke grows to lead the Bastards, delightedly pulling off one outrageous confidence game after another. Soon he is infamous as the Thorn of Camorr, and no wealthy noble is safe from his sting.
Passing themselves off as petty thieves, the brilliant Locke and his tightly knit band of light-fingered brothers have fooled even the criminal underworld's most feared ruler, Capa Barsavi. But there is someone in the shadows more powerful — and more ambitious — than Locke has yet imagined.
Known as the Gray King, he is slowly killing Capa Barsavi's most trusted men — and using Locke as a pawn in his plot to take control of Camorr's underworld. With a bloody coup under way threatening to destroy everyone and everything that holds meaning in his mercenary life, Locke vows to beat the Gray King at his own brutal game — or die trying…
Current Completion: Page 151 of 513
What did I recently finish reading?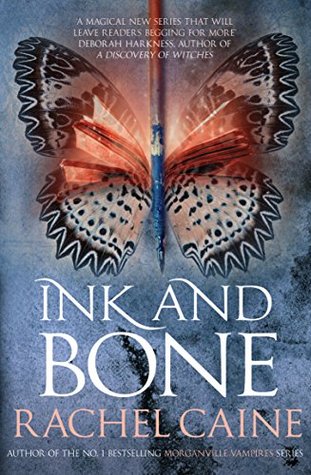 Goodreads Synopsis:
 In an exhilarating new series, New York Times bestselling author Rachel Caine rewrites history, creating a dangerous world where the Great Library of Alexandria has survived the test of time.…
Ruthless and supremely powerful, the Great Library is now a presence in every major city, governing the flow of knowledge to the masses. Alchemy allows the Library to deliver the content of the greatest works of history instantly—but the personal ownership of books is expressly forbidden.
Jess Brightwell believes in the value of the Library, but the majority of his knowledge comes from illegal books obtained by his family, who are involved in the thriving black market. Jess has been sent to be his family's spy, but his loyalties are tested in the final months of his training to enter the Library's service.
When his friend inadvertently commits heresy by creating a device that could change the world, Jess discovers that those who control the Great Library believe that knowledge is more valuable than any human life—and soon both heretics and books will burn…
My verdict: ★★★★ My review is here
∞
Goodreads Synopsis: Dear Reader,
Being trapped in a bedroom with a woman is a grand thing. Being trapped in hundreds of bedrooms over two thousand years isn't. And being cursed into a book as a love-slave for eternity can ruin even a Spartan warrior's day.
As a love slave, I know everything about women. How to touch them, how to savor them, and most of all, how to pleasure them. But when I was summoned to fulfill Grace Alexander's sexual fantasies, I found the first woman in history who saw me as a man with a tormented past. She alone bothered to take me out of the bedroom and into the world. She taught me to love again.
But I was not born to know love. I was cursed to walk eternity alone. As a general, I had long ago accepted my sentence. Yet now I have found Grace – the one thing my wounded heart cannot survive without. Sure, love can heal all wounds, but can it break a two-thousand-year-old curse?
Julian of Macedon
My verdict: ★★★★★
∞
Goodreads Synopsis : I. Remember. Everything.
Only now I wish I didn't.
When the fog is sucked away from my mind like smoke through a vacuum, the truth that has been beyond my reach for months finally reveals itself.
But the relief I thought I would feel never comes, and I'm more afraid now than I was the morning I woke up handcuffed in King's bed.
Because with the truth comes dark secrets I was never meant to know.
I will put the lives of those I love most at risk if I let on that my memory has returned, or if I seek help from the heavily tattooed felon who owns me body and soul.
I don't know if I'm strong enough to resist the magnetic pull toward King that grows stronger every day.
He's already saved me in more ways than one. Now it's my turn to do whatever it takes to save him.
Even if that means marrying someone else…
My verdict: ★★★★★ No word of a lie – I did not expect that plotline in the slightest. totally threw me and it was awesome. 
---
What do I think I'll read next?
Pass. I've got a few ARCs I need to read also which I'll be moving on to quite quickly. I will also continue my series re-read of the Kate Daniels series by Ilona Andrews but it's on the back-burner for the moment.