This meme formerly hosted by MizB, is now hosted by Sam over at Taking on a World of Words.
Why not join in? Just answer the following three questions in a post and then put a link to that post in the Comments over at Taking on a World of Words.
The questions are:
What are you currently reading?
What did you recently finish reading?
What do you think you'll read next?
All images link back to their respective Goodreads page.
It's been a slow reading week but not a slow book week at all. I've read 2 new books and reading 2 at the moment. I'm also going on holiday so it'll be a slow reading week this week too.
---
What am I currently reading?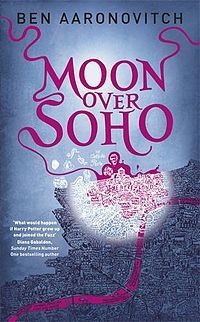 Goodreads Synopsis: I was my dad's vinyl-wallah: I changed his records while he lounged around drinking tea, and that's how I know my Argo from my Tempo. And it's why, when Dr Walid called me to the morgue to listen to a corpse, I recognised the tune it was playing.
Something violently supernatural had happened to the victim, strong enough to leave its imprint like a wax cylinder recording. Cyrus Wilkinson, part-time jazz saxophonist and full-time accountant, had apparently dropped dead of a heart attack just after finishing a gig in a Soho jazz club. He wasn't the first.
No one was going to let me exhume corpses to see if they were playing my tune, so it was back to old-fashioned legwork, starting in Soho, the heart of the scene. I didn't trust the lovely Simone, Cyrus' ex-lover, professional jazz kitten and as inviting as a Rubens portrait, but I needed her help: there were monsters stalking Soho, creatures feeding off that special gift that separates the great musician from someone who can raise a decent tune. What they take is beauty. What they leave behind is sickness, failure and broken lives.
And as I hunted them, my investigation got tangled up in another story: a brilliant trumpet player, Richard 'Lord' Grant – my father – who managed to destroy his own career, twice. That's the thing about policing: most of the time you;re doing it to maintain public order. Occasionally you're doing it for justice. And maybe once in a career, you're doing it for revenge
Current Completion: 12%
∞
Logen Ninefingers, infamous barbarian, has finally run out of luck. Caught in one feud too many, he's on the verge of becoming a dead barbarian – leaving nothing behind him but bad songs, dead friends, and a lot of happy enemies.
Nobleman Captain Jezal dan Luthar, dashing officer, and paragon of selfishness, has nothing more dangerous in mind than fleecing his friends at cards and dreaming of glory in the fencing circle. But war is brewing, and on the battlefields of the frozen North they fight by altogether bloodier rules.
Inquisitor Glokta, cripple turned torturer, would like nothing better than to see Jezal come home in a box. But then Glokta hates everyone: cutting treason out of the Union one confession at a time leaves little room for friendship. His latest trail of corpses may lead him right to the rotten heart of government, if he can stay alive long enough to follow it.
Enter the wizard, Bayaz. A bald old man with a terrible temper and a pathetic assistant, he could be the First of the Magi, he could be a spectacular fraud, but whatever he is, he's about to make the lives of Logen, Jezal, and Glokta a whole lot more difficult.
Murderous conspiracies rise to the surface, old scores are ready to be settled, and the line between hero and villain is sharp enough to draw blood.
Current Completion: Page 80 of 517
What did I recently finish reading?

Goodreads Synopsis:
Seven years ago, the Veil that separates humanity from what lies beyond was torn apart, and New Orleans was engulfed in a supernatural war. Now, those with paranormal powers have been confined in a walled community that humans call the District. Those who live there call it Devil's Isle.
Claire Connolly is a good girl with a dangerous secret: she's a Sensitive, a human endowed with magic that seeped through the Veil. Claire knows that revealing her skills would mean being confined to Devil's Isle. Unfortunately, hiding her power has left her untrained and unfocused.
Liam Quinn knows from experience that magic makes monsters of the weak, and he has no time for a Sensitive with no control of her own strength. But when he sees Claire using her powers to save a human under attack—in full view of the French Quarter—Liam decides to bring her to Devil's Isle and the teacher she needs, even though getting her out of his way isn't the same as keeping her out of his head.
But when the Veil threatens to shatter completely, Claire and Liam must work together to stop it, or else New Orleans will burn…
My verdict: ★★★
∞
I never thought I'd need a vacation from being an assassin….
My name is Gin Blanco, and I'm the assassin the Spider. All the Ashland's lowlifes are gunning for me and trying to make a name for themselves by taking out the Spider. So I think it's a good idea to get out of Ashland for a while until things cool down.
So I'm headed south to a swanky beach town, along with my baby sister, Bria, for a weekend of fun in the sun. But when an old friend of Bria's is threatened by a powerful vampire with deadly elemental magic, it looks like I'll have to dig my silverstone knives out of my suitcase after all. But this time, not even my own Ice and Stone power may be enough to save me from coming home in a pine box…
My verdict: ★★★★
---
What do I think I'll read next?
I hope to continue reading the Kate Daniels Series as the next book is out next week.