This meme formerly hosted by MizB, is now hosted by Sam over at Taking on a World of Words.
Why not join in? Just answer the following three questions in a post and then put a link to that post in the Comments over at Taking on a World of Words.
The questions are:
What are you currently reading?
What did you recently finish reading?
What do you think you'll read next?
All images link back to their respective Goodreads page.
It's been a busy week all round, I've finished 4, reviewed 2, and started more than I should have. I'll have another finished more than likely tonight as well 🙂
---
What am I currently reading?
Goodreads Synopsis:
Atlanta is a city plagued by magical problems. Kate Daniels will fight to solve them—no matter the cost.
Mercenary Kate Daniels and her mate, Curran, the Beast Lord, are struggling to solve a heartbreaking crisis. Unable to control their beasts, many of the Pack's shapeshifting children fail to survive to adulthood. While there is a medicine that can help, the secret to its making is closely guarded by the European packs, and there's little available in Atlanta.
Kate can't bear to watch innocents suffer, but the solution she and Curran have found threatens to be even more painful. The European shapeshifters who once outmaneuvered the Beast Lord have asked him to arbitrate a dispute—and they'll pay him in medicine. With the young people's survival and the Pack's future at stake, Kate and Curran know they must accept the offer—but they have little doubt that they're heading straight into a trap…
Current Completion: Page 208 of 327.
∞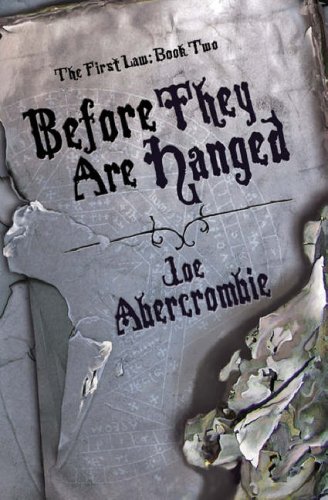 Goodreads Synopsis: Superior Glokta has a problem. How do you defend a city surrounded by enemies and riddled with traitors, when your allies can by no means be trusted, and your predecessor vanished without a trace? It's enough to make a torturer want to run – if he could even walk without a stick.
Northmen have spilled over the border of Angland and are spreading fire and death across the frozen country. Crown Prince Ladisla is poised to drive them back and win undying glory. There is only one problem – he commands the worst-armed, worst-trained, worst-led army in the world.
And Bayaz, the First of the Magi, is leading a party of bold adventurers on a perilous mission through the ruins of the past. The most hated woman in the South, the most feared man in the North, and the most selfish boy in the Union make a strange alliance, but a deadly one. They might even stand a chance of saving mankind from the Eaters. If they didn't hate each other quite so much.
Ancient secrets will be uncovered. Bloody battles will be won and lost. Bitter enemies will be forgiven – but not before they are hanged.
Current Completion: Page 48 of 441
∞
Goodreads Synopsis: A WHOLE NEW REASON TO MIND THE GAP
It begins with a dead body at the far end of Baker Street tube station, all that remains of American exchange student James Gallagher—and the victim's wealthy, politically powerful family is understandably eager to get to the bottom of the gruesome murder. The trouble is, the bottom—if it exists at all—is deeper and more unnatural than anyone suspects . . . except, that is, for London constable and sorcerer's apprentice Peter Grant. With Inspector Nightingale, the last registered wizard in England, tied up in the hunt for the rogue magician known as "the Faceless Man," it's up to Peter to plumb the haunted depths of the oldest, largest, and—as of now—deadliest subway system in the world.
At least he won't be alone. No, the FBI has sent over a crack agent to help. She's young, ambitious, beautiful . . . and a born-again Christian apt to view any magic as the work of the devil. Oh yeah—that's going to go well.
Current Completion: 2%
What did I recently finish reading?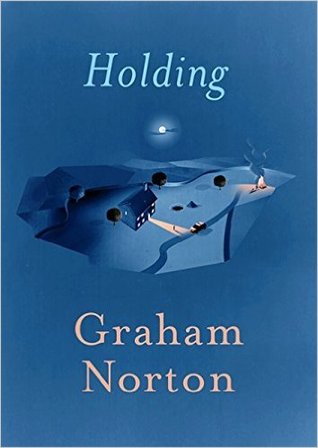 Goodreads Synopsis: Graham Norton's masterful debut is an intelligently crafted story of love, secrets and loss.
The remote Irish village of Duneen has known little drama; and yet its inhabitants are troubled. Sergeant PJ Collins hasn't always been this overweight; mother of­ two Brid Riordan hasn't always been an alcoholic; and elegant Evelyn Ross hasn't always felt that her life was a total waste.
So when human remains are discovered on an old farm, suspected to be that of Tommy Burke – a former­ love of both Brid and Evelyn – the village's dark past begins to unravel. As the frustrated PJ struggles to solve a genuine case for the first time in his life, he unearths a community's worth of anger and resentments, secrets and regret.
Darkly comic, touching and at times profoundly sad. Graham Norton employs his acerbic wit to breathe life into a host of loveable characters, and explore – with searing honesty – the complexities and contradictions that make us human.
My verdict: ★★★★ Review is here
∞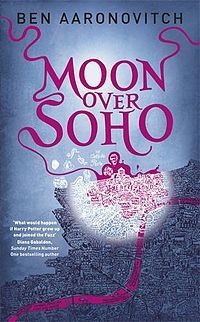 Goodreads Synopsis: I was my dad's vinyl-wallah: I changed his records while he lounged around drinking tea, and that's how I know my Argo from my Tempo. And it's why, when Dr Walid called me to the morgue to listen to a corpse, I recognised the tune it was playing.
Something violently supernatural had happened to the victim, strong enough to leave its imprint like a wax cylinder recording. Cyrus Wilkinson, part-time jazz saxophonist and full-time accountant, had apparently dropped dead of a heart attack just after finishing a gig in a Soho jazz club. He wasn't the first.
No one was going to let me exhume corpses to see if they were playing my tune, so it was back to old-fashioned legwork, starting in Soho, the heart of the scene. I didn't trust the lovely Simone, Cyrus' ex-lover, professional jazz kitten and as inviting as a Rubens portrait, but I needed her help: there were monsters stalking Soho, creatures feeding off that special gift that separates the great musician from someone who can raise a decent tune. What they take is beauty. What they leave behind is sickness, failure and broken lives.
And as I hunted them, my investigation got tangled up in another story: a brilliant trumpet player, Richard 'Lord' Grant – my father – who managed to destroy his own career, twice. That's the thing about policing: most of the time you;re doing it to maintain public order. Occasionally you're doing it for justice. And maybe once in a career, you're doing it for revenge
My verdict: ★★★★ Review is here
∞
Goodreads Synopsis: In 1935, young medic Stephen Pearce travels to India to join an expedition with his brother, Kits. The elite team of five will climb Kangchenjunga, the world's third highest mountain and one of mountaineering's biggest killers. No one has scaled it before, and they are, quite literally, following in the footsteps of one of the most famous mountain disasters of all time – the 1907 Lyell Expedition.
Five men lost their lives back then, overcome by the atrocious weather, misfortune and 'mountain sickness' at such high altitudes. Lyell became a classic British hero when he published his memoir, Bloody, But Unbowed, which regaled his heroism in the face of extreme odds. It is this book that will guide this new group to get to the very top.
As the team prepare for the epic climb, Pearce's unease about the expedition deepens. The only other survivor of the 1907 expedition, Charles Tennant, warns him off. He hints of dark things ahead and tells Pearce that, while five men lost their lives on the mountain, only four were laid to rest.
But Pearce is determined to go ahead and complete something that he has dreamed of his entire life. As they get higher and higher, and the oxygen levels drop, he starts to see dark things out of the corners of his eyes. As macabre mementoes of the earlier climbers turn up on the trail, Stephen starts to suspect that Charles Lyell's account of the tragedy was perhaps not the full story…
My verdict: ★★★ Good but just not my cup of tea.
∞
Goodreads Synopsis: King isn't who she thought. She wasn't even close…
When Mia Turner's life becomes tethered to a mysterious billionaire, who she swears is the devil himself, she knows she must break free. It doesn't matter if everything about him—those sinful lips, those pale gray eyes, that perfect male body—keeps her awake at night. He's evil. She has to get away.
But when this man, known simply as King, suddenly disappears, Mia will discover she's not home free. Because without King, she's no longer safe from his ruthless, depraved, power-hungry social circle.
To survive, Mia will have to conceal King's absence and walk a mile in the evil man's twisted, cruel shoes. What she discovers will leave her more terrified and her heart more conflicted than she ever imagined.
King is not who she thought. She wasn't even close.
My verdict: ★★★★ Just twisted and freaky enough to be paranormal and just romantic enough to be considered romance.
---
What do I think I'll read next?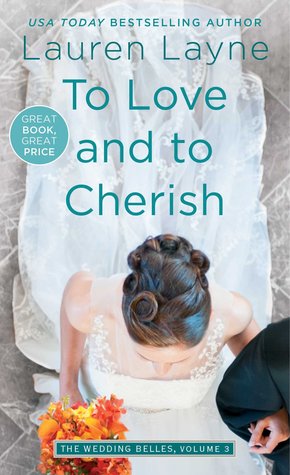 Goodreads Synopsis: Sex and the City meets The Wedding Planner in The Wedding Belles, a contemporary and witty romance series about three high-powered New York City women who can plan any wedding—but their own.
Alexis Morgan has spent the past six years devoted to turning her tiny start-up into Manhattan's premiere wedding planning company, The Wedding Belles. Now that her business is thriving, it's time to turn towards her much neglected personal life, and Alexis approaches her relationships like she does everything else: with a plan. Not a part of that plan is Logan Harris, the silent partner in the Belles, and the one person who's been there for her since the very beginning. But Alexis needs someone fun, and Logan's all business, all the time—except when a late night at the office ends with an unexpected kiss that leaves the usually cool and together Alexis reeling.
Logan has lusted after Alexis since the day he walked into the tiny Harlem apartment that used to double as her office. But the ambitious wedding planner has always been untouchable…until now. Alexis has made it clear that she's on the dating market—and equally clear that he's not in the running. But when Alexis finds herself in need of a date for her sister's last minute wedding in Florida, Logan knows it's the perfect time to show Alexis that there's more to him than numbers and spreadsheets—and beneath the pinstripes and glasses lies a hot-blooded heartthrob. As Florida's sultry days turn into even hotter nights, Logan's out to convince Alexis that the fling of a lifetime could just maybe turn into forever…
Why? I was lucky enough to be approved for an ARC of this book from the publisher via Netgalley and I loved the first two so much I can't wait to see how this book ends the series.
To Love and To Cherish is expected to be published 18th October 2016