This meme formerly hosted by MizB, is now hosted by Sam over at Taking on a World of Words.
Why not join in? Just answer the following three questions in a post and then put a link to that post in the Comments over at Taking on a World of Words.
The questions are:
What are you currently reading?
What did you recently finish reading?
What do you think you'll read next?
All images link back to their respective Goodreads page.
I've had a really slow reading week.  I've only finished one book but started another 3!
---
What am I currently reading?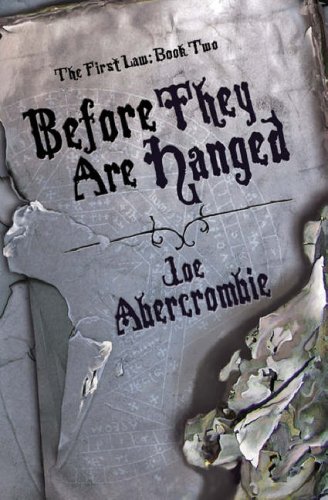 Goodreads Synopsis: Superior Glokta has a problem. How do you defend a city surrounded by enemies and riddled with traitors, when your allies can by no means be trusted, and your predecessor vanished without a trace? It's enough to make a torturer want to run – if he could even walk without a stick.
Northmen have spilled over the border of Angland and are spreading fire and death across the frozen country. Crown Prince Ladisla is poised to drive them back and win undying glory. There is only one problem – he commands the worst-armed, worst-trained, worst-led army in the world.
And Bayaz, the First of the Magi, is leading a party of bold adventurers on a perilous mission through the ruins of the past. The most hated woman in the South, the most feared man in the North, and the most selfish boy in the Union make a strange alliance, but a deadly one. They might even stand a chance of saving mankind from the Eaters. If they didn't hate each other quite so much.
Ancient secrets will be uncovered. Bloody battles will be won and lost. Bitter enemies will be forgiven – but not before they are hanged.
Current Completion: Page 236 of 441
∞
Goodreads Synopsis: Ben Aaronovitch has stormed the bestseller list with his superb London crime series. A unique blend of police procedural, loving detail about the greatest character of all, London, and a dash of the supernatural.
In the new novel DC Peter Grant must head south of the river to the alien environs of Elephant and Castle. There's a murderer abroad and, as always when Grant's department are reluctantly called in by CID there is more than a whiff of the supernatural in the darkness.
Full of warmth, sly humour and a rich cornucopia of things you never knew about London, Aaronovitch's series has swiftly added Grant's magical London to Rebus' Edinburgh and Morse's Oxford as a destination of choice for those who love their crime with something a little extra.
Current Completion: 8% – Chapter 2
∞
Goodreads Synopsis: My name is Harry Blackstone Copperfield Dresden. Conjure by it at your own risk. I'm a wizard. I work out of an office in midtown Chicago. As far as I know, I'm the only openly practicing professional wizard in the country. You can find me in the yellow pages, under Wizards. Believe it or not, I'm the only one there.
With rent past due and a decent meal becoming an issue of some importance, Harry needs work, and soon. A call from a distraught wife, and another from Lt Murphy of the Chicago PD Special Investigation Unit makes Harry believe things are looking up, but they are about to get worse, much worse. Someone is harnessing immense supernatural forces to commit a series of grisly murders. Someone has violated the first law of magic: Thou Shalt Not Kill. Tracking that someone takes Harry into the dangerous underbelly of Chicago, from mobsters to vampires, while he himself is under suspicion of the crimes. One thing is certain, if he can't stop whoever is on this killing spree, Harry will be the next victim.
From the Publisher (Buzzy Multimedia)
__________
Unabridged, 8 discs, 8 hours 2 minutes
Current Progress: Approximately 7 hours left – roughly chapter 4/15%
My first EVER audiobook and it's narrated by the one and only James Marsters – reading due to my partner's immense love of the series and Alilovesbooks suggested the audiobook.
∞
Goodreads Synopsis:
Gavin Guile is dying.
He'd thought he had five years left—now he has less than one. With fifty thousand refugees, a bastard son, and an ex-fiancée who may have learned his darkest secret, Gavin has problems on every side. All magic in the world is running wild and threatens to destroy the Seven Satrapies.
Worst of all, the old gods are being reborn, and their army of color wights is unstoppable. The only salvation may be the brother whose freedom and life Gavin stole sixteen years ago.
Current completion: 2%
What did I recently finish reading?

Goodreads Synopsis:
From New York Times Bestselling author Brent Weeks
THE BLACK PRISM begins a brand new action-packed tale of magic and adventure …
Guile is the Prism, the most powerful man in the world. He is high priest and emperor, a man whose power, wit, and charm are all that preserves a tenuous peace. Yet Prisms never last, and Guile knows exactly how long he has left to live.
When Guile discovers he has a son, born in a far kingdom after the war that put him in power, he must decide how much he's willing to pay to protect a secret that could tear his world apart.
My verdict: ★★★★★ 
---
What do I think I'll read next?
The next in the Lightbringer series – The Broken Eye