This meme formerly hosted by MizB, is now hosted by Sam over at Taking on a World of Words.
Why not join in? Just answer the following three questions in a post and then put a link to that post in the Comments over at Taking on a World of Words.
The questions are:
What are you currently reading?
What did you recently finish reading?
What do you think you'll read next?
All images link back to their respective Goodreads page.
---
What am I currently reading?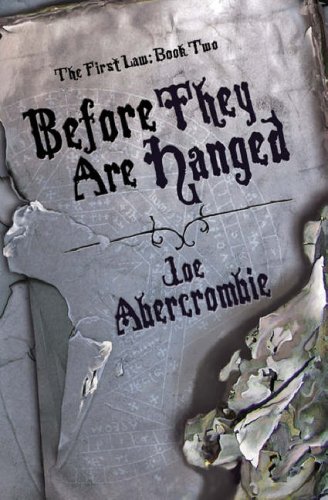 Goodreads Synopsis: Superior Glokta has a problem. How do you defend a city surrounded by enemies and riddled with traitors, when your allies can by no means be trusted, and your predecessor vanished without a trace? It's enough to make a torturer want to run – if he could even walk without a stick.
Northmen have spilled over the border of Angland and are spreading fire and death across the frozen country. Crown Prince Ladisla is poised to drive them back and win undying glory. There is only one problem – he commands the worst-armed, worst-trained, worst-led army in the world.
And Bayaz, the First of the Magi, is leading a party of bold adventurers on a perilous mission through the ruins of the past. The most hated woman in the South, the most feared man in the North, and the most selfish boy in the Union make a strange alliance, but a deadly one. They might even stand a chance of saving mankind from the Eaters. If they didn't hate each other quite so much.
Ancient secrets will be uncovered. Bloody battles will be won and lost. Bitter enemies will be forgiven – but not before they are hanged.
Current Completion: Page 236 of 441 – This book is on hold in favour of reading some of my ARCs, at least for now.
∞
Goodreads Synopsis:
Gavin Guile is dying.
He'd thought he had five years left—now he has less than one. With fifty thousand refugees, a bastard son, and an ex-fiancée who may have learned his darkest secret, Gavin has problems on every side. All magic in the world is running wild and threatens to destroy the Seven Satrapies.
Worst of all, the old gods are being reborn, and their army of color wights is unstoppable. The only salvation may be the brother whose freedom and life Gavin stole sixteen years ago.
Current completion: 7% – I've put this book on hold for the moment so I can finish a few ARCs as frankly ARCs come from the publisher specifically for me to review and usually have a time line, but books I've bought myself I can read whenever and have no major need to finish it right this second.
∞
Goodreads synopsis:
In the fifth of his bestselling series Ben Aaronovitch takes Peter Grant out of whatever comfort zone he might have found and takes him out of London – to a small village in Herefordshire where the local police are reluctant to admit that there might be a supernatural element to the disappearance of some local children. But while you can take the London copper out of London you can't take the London out of the copper.
Travelling west with Beverley Brook, Peter soon finds himself caught up in a deep mystery and having to tackle local cops and local gods. And what's more all the shops are closed by 4pm …
Current Completion: Page 309 of 378
What did I recently finish reading?

Goodreads Synopsis:
Ben Aaronovitch has stormed the bestseller list with his superb London crime series. A unique blend of police procedural, loving detail about the greatest character of all, London, and a dash of the supernatural.
In the new novel DC Peter Grant must head south of the river to the alien environs of Elephant and Castle. There's a murderer abroad and, as always when Grant's department are reluctantly called in by CID there is more than a whiff of the supernatural in the darkness.
Full of warmth, sly humour and a rich cornucopia of things you never knew about London, Aaronovitch's series has swiftly added Grant's magical London to Rebus' Edinburgh and Morse's Oxford as a destination of choice for those who love their crime with something a little extra.
My verdict: ★★★★ Review is here
---
What do I think I'll read next?
I was lucky enough to receive a copy of The Hanging Tree by Ben Aaronovitch prior to its release next week so I'll be reading that to finish off the series so far.