This meme formerly hosted by MizB, is now hosted by Sam over at Taking on a World of Words.
Why not join in? Just answer the following three questions in a post and then put a link to that post in the Comments over at Taking on a World of Words.
The questions are:
What are you currently reading?
What did you recently finish reading?
What do you think you'll read next?
All images link back to their respective Goodreads page.
---
What am I currently reading?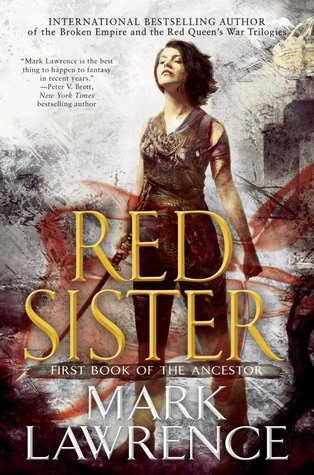 Goodreads Synopsis: I was born for killing – the gods made me to ruin.
At the Convent of Sweet Mercy young girls are raised to be killers. In a few the old bloods show, gifting talents rarely seen since the tribes beached their ships on Abeth. Sweet Mercy hones its novices' skills to deadly effect: it takes ten years to educate a Red Sister in the ways of blade and fist.
But even the mistresses of sword and shadow don't truly understand what they have purchased when Nona Grey is brought to their halls as a bloodstained child of eight, falsely accused of murder: guilty of worse.
Stolen from the shadow of the noose, Nona is sought by powerful enemies, and for good reason. Despite the security and isolation of the convent her secret and violent past will find her out. Beneath a dying sun that shines upon a crumbling empire, Nona Grey must come to terms with her demons and learn to become a deadly assassin if she is to survive…
Current completion: Page 101 of 432 and loving it
∞
Goodreads Synopsis: In a land of lost wonders, the past is stirring once more . . .

Gene's life resembles a debutante's dream. Yet she hides a secret that would see her shunned by the nobility. Gene is both male and female. Then she displays unwanted magical abilities – last seen in mysterious beings from an almost-forgotten age. Matters escalate further when her parents plan a devastating betrayal, so she flees home, dressed as a boy.
The city beyond contains glowing glass relics from a lost civilization. They call to her, but she wants freedom not mysteries. So, reinvented as 'Micah Grey', Gene joins the circus. As an aerialist, she discovers the joy of flight – but the circus has a dark side. She's also plagued by visions foretelling danger. A storm is howling in from the past, but will she heed its roar?
Current completion: 4%
∞
Goodreads Synopsis:
One of the most vicious archangels in the world has disappeared. No one knows if Lijuan is dead or has chosen to Sleep the long sleep of an immortal. But with her lands falling into chaos under a rising tide of vampiric bloodlust, a mysterious and ancient order of angels known as the Luminata calls the entire Cadre together to discuss the fate of her territory.
Accompanying her archangel lover Raphael to the Luminata compound, Guild Hunter-turned-angel Elena senses that all is not as it seems. Secrets echo from within the stone walls of the compound, and the deeper Elena goes, the uglier the darkness. But neither Raphael nor Elena is ready for the brutal truths hidden within – truths that will change everything Elena thinks she knows about who she is . . .
Nothing will ever be the same again.
Current completion: 2%
∞
Goodreads Synopsis: Four hundred years in the future, the most dangerous criminals are kept in suspended animation aboard prison ships and "rehabilitated" in a shared virtual reality environment. But Miska Storrow, a thief and hacker with a background in black ops, has stolen one of these ships, the Hangman's Daughter, and made it her own.
Controlled by explosive collars and trained in virtual reality by the electronic ghost of a dead marine sergeant, the thieves, gangsters, murderers, and worse are transformed into Miska's own private indentured army: the Bastard Legion. Are the mercenaries just for fun and profit, or does Miska have a hidden purpose connected to her covert past?
Current completion: 70% – I'll have this finished today and a review up shortly after
What did I recently finish reading?

Goodreads Synopsis:
It is the 147th century; the turning of the Amaranthine new year.
In the provinces of the Old World, the giant Elatine's war of liberation has come to an impasse, leaving the wicked monarchy of the First in possession of the throne.
In the Vaulted Lands of the Firmament, acolytes have risen up to execute their immortal masters. The opportunistic races of the Prism, intoxicated with greed, have arrived inside every Solar Satrapy to scavenge what's left.
In the wild Investiture, on a forgotten water moon, a crew of shipwrecked Privateers come face to face with their greatest terror, and with it the most valuable treasure in all the galaxy.
Jatropha, legendary Immortal, must escort his precious charge through the exotic Westerly Provinces, knowing all the world would steal her if they could.
Sotiris, his mind fading fast, must set out to find his dear, drowned sister in a land previously unglimpsed by anyone but the dead.
Lycaste, now far from home, must journey in strange company to the edge of a tempestuous sea, to the lair of someone so dangerous that even the legendary Amaranthine fear his name.
My verdict: ★★★★★ My review is here
---
What do I think I'll read next?
One from my huge pile