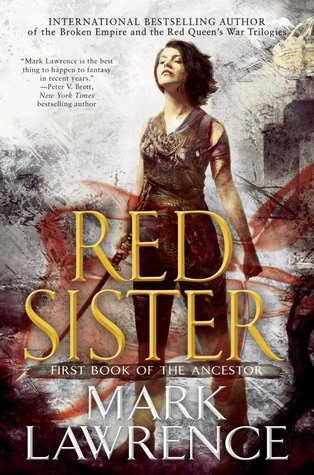 Title: Red Sister | Series: Book of the Ancestor #1 | Author: Mark Lawrence | Publisher: Ace | Publication date: April 4th 2017 | Num. Pages: 432 | Genre: Epic fantasy, Fantasy | How I owned it: ARC copy kindly provided by the author
★★★★★
5 stars – The best book about nuns I've ever read
Many thanks to Mark Lawrence for providing me with a copy of this book in exchange for an honest review.
All quotations are taken from an Advanced Reading Copy and may not be the same in the finished book.
---
Synopsis
I was born for killing – the gods made me to ruin.
At the Convent of Sweet Mercy young girls are raised to be killers. In a few the old bloods show, gifting talents rarely seen since the tribes beached their ships on Abeth. Sweet Mercy hones its novices' skills to deadly effect: it takes ten years to educate a Red Sister in the ways of blade and fist.
But even the mistresses of sword and shadow don't truly understand what they have purchased when Nona Grey is brought to their halls as a bloodstained child of eight, falsely accused of murder: guilty of worse.
Stolen from the shadow of the noose, Nona is sought by powerful enemies, and for good reason. Despite the security and isolation of the convent her secret and violent past will find her out. Beneath a dying sun that shines upon a crumbling empire, Nona Grey must come to terms with her demons and learn to become a deadly assassin if she is to survive…
---
Review
It is important, when killing a nun, to bring an army of sufficient size.
I know they say to never judge a book by its cover but first impressions are everything. The above quote is the first line written in Red Sister – Mark Lawrence's newest masterpiece. I don't use the term lightly.
For those of you who haven't read his work before – know this: it will change how you read fantasy for the better. There's a really apt line in this book for this sentiment:
…a book is as dangerous as any journey you might take. The person who closes the back cover may not be the same one that opened the front one.
For those of you who have, you know his main characters are the ultimate in anti-heroes. All male, all rough, all the epitome of badassery. Red Sister is the first with a strong – and I mean strong –all female cast.
From the first instance you know this book is going to be top of the scale of epicness, Red Sister will draw you in within moments of opening the pages.
It follows the story of Nona Grey- an eight year old girl saved from the noose by an unlikely saviour – a nun – Abbess Glass, leader of the Sweet Mercy Convent. Nona becomes a novice nun and begins her journey to becoming a Red Sister- a nun skilled in combat. At first the book can feel a little like you've stepped backwards in time to where children are bought and sold on the road, where the Church has almost absolute power and where little girls do not become killer nuns; however as the story progresses and Nona's back story is revealed to us piece by piece I found my original thoughts to be utter bullshit because frankly the plot is outstanding.
I'll hold my hand up and say I've never read a book about nuns before but Red Sister has ruined me for any other.
As signature with Mark's work, Red Sister has the perfect balance between seriousness and humour with some brilliant descriptions of the most simplest of things:
…and a quill. This latter gave the impression that the bird from which it was taken had died of some wasting disease, falling from its perch into a dirty puddle before being run over by several carts and finally thoroughly chewed by a hungry cat.
The dialogue was witty and the right tone for what is ultimately a group of girls in boarding school who both love and hate each other and what they do on a daily basis. The friendships made at Sweet Mercy are friendships built to last through the toughest of scenarios, literally through thick and thin. Nona's past catches up with her frequently and she is tested to her highest limits and on occasion shoved over that limit.
"Trust is the most insidious of poisons."
There are some harsh lessons to be learned in Red Sister and not just the physical ones – of which there are many. The plot is thick with action, betrayal, uncanny abilities and supernatural old world bloodlines that show through in current generations that haven't been seen since the first tribes settled in Abeth; with prophecies galore and the odd psycho, bare knuckle fighting in the pits and justice is wrought.
The revelations are spectacular and revealed in unexpected ways that have totally done them justice. The writing style of Mark Lawrence is once more on point with the right amount of length for each chapter; the supernatural demon element was written in a great way. Overall, it was a masterpiece of the genre and deserves all the stars.
Red Sister has been one of the highlights of my year so far and it is outstanding. I've tried not to give anything away which is hard cause I want to give all the spoilers! I'll leave you with a parting quote that sums up the book nicely.
"Words are steps along a path: The important thing is to get where you're going."