This meme formerly hosted by MizB, is now hosted by Sam over at Taking on a World of Words.
Why not join in? Just answer the following three questions in a post and then put a link to that post in the Comments over at Taking on a World of Words.
The questions are:
What are you currently reading?
What did you recently finish reading?
What do you think you'll read next?
All images link back to their respective Goodreads page.
---
What am I currently reading?
Goodreads Synopsis: Dawn breaks over Vancouver and no one in the world has slept the night before, or almost no one. A few people, perhaps one in ten thousand, can still sleep, and they've all shared the same golden dream.
After six days of absolute sleep deprivation, psychosis will set in. After four weeks, the body will die. In the interim, panic ensues and a bizarre new world arises in which those previously on the fringes of society take the lead.
Paul, a writer, continues to sleep while his partner Tanya disintegrates before his eyes, and the new world swallows the old one whole.
Current completion: 40% I'll have this finished today no doubt. It's a weird book, good but definitely weird.
∞
Goodreads Synopsis: Inside the firewall, the city is alive. Buildings breathe, cars attack, angels patrol, hyperintelligent pets rebel.
This much-anticipated first collection from one of the world's hottest SF authors contains seventeen stories, a neurofiction experiment, and a selection of his Twitter microfiction.
How will human nature evolve when the only limit to desire is creativity? What happens when the distinction between humans and gods is as small as nanomachines or as large as the universe? Journeying deep into inner and outer space the stories collected here explore the future in all its complexity.
Current completion: Page 1 of 242
∞
Goodreads Synopsis:
SPEAK AGAIN THE ANCIENT OATHS,
LIFE BEFORE DEATH.
STRENGTH BEFORE WEAKNESS.
JOURNEY BEFORE DESTINATION.
AND RETURN TO MEN THE SHARDS THEY ONCE BORE.
THE KNIGHTS RADIANT MUST STAND AGAIN.
Roshar is a world of stone and storms. Uncanny tempests of incredible power sweep across the rocky terrain so frequently that they have shaped ecology and civilization alike. Animals hide in shells, trees pull in branches, and grass retracts into the soilless ground. Cities are built only where the topography offers shelter.
It has been centuries since the fall of the ten consecrated orders known as the Knights Radiant, but their Shardblades and Shardplate remain: mystical swords and suits of armor that transform ordinary men into near-invincible warriors. Men trade kingdoms for Shardblades. Wars are fought for them, and won by them.
One such war is about to swallow up a soldier, a brightlord and a young woman scholar.
Widely acclaimed for his work completing Robert Jordan's Wheel of Time saga, Brandon Sanderson now begins a grand cycle of his own, one every bit as ambitious and immersive.
Current completion: Not started yet but in preparation for the buddy read with my fiance
What did I recently finish reading?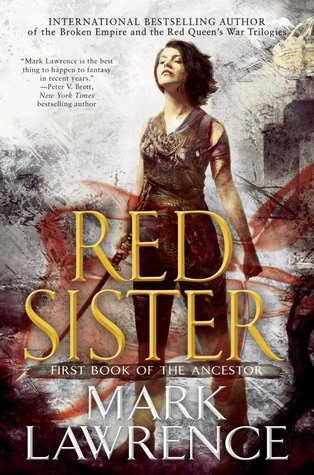 Goodreads Synopsis:
I was born for killing – the gods made me to ruin.
At the Convent of Sweet Mercy young girls are raised to be killers. In a few the old bloods show, gifting talents rarely seen since the tribes beached their ships on Abeth. Sweet Mercy hones its novices' skills to deadly effect: it takes ten years to educate a Red Sister in the ways of blade and fist.
But even the mistresses of sword and shadow don't truly understand what they have purchased when Nona Grey is brought to their halls as a bloodstained child of eight, falsely accused of murder: guilty of worse.
Stolen from the shadow of the noose, Nona is sought by powerful enemies, and for good reason. Despite the security and isolation of the convent her secret and violent past will find her out. Beneath a dying sun that shines upon a crumbling empire, Nona Grey must come to terms with her demons and learn to become a deadly assassin if she is to survive…
My verdict: ★★★★★ My review is here. An outstanding first in a new series with plenty to give
∞
Goodreads Synopsis:
Bishop Nigel smiled at me. 'Holy water doesn't harm vampires. Which is just as well, as it would make it impossible to baptise them.'
When I was asked by a dragon to give him the last rites, I never dreamed it would lead to negotiating with his cannibalistic family or running from snail sharks. Life as the priest of a small English village is quite tame in comparision. At least I have Morey, a gryphon with sarcasm management issues, to help me. And if all else fails, there's always red wine and single malt whisky.
As if my life weren't complicated enough, a darkly beautiful dragon named Raven keeps appearing where I least expect him, I've met a handsome police inspector who loves science fiction as much as I do, and my younger brother is getting into trouble for trying to pick up vampires.
That's what happens when you're dealing with an incredible and dangerous parallel world full of mythical creatures. And I have to learn to navigate it all without losing myself, or my brother…
My verdict: ★★★ My review is here
∞
Goodreads Synopsis:
A superb murder mystery, on an epic scale, set against the fall out – literally – of a war in Heaven.
Paris has survived the Great Magicians War – just. Its streets are lined with haunted ruins, Notre-Dame is a burnt-out shell, and the Seine runs black with ashes and rubble. Yet life continues among the wreckage. The citizens continue to live, love, fight and survive in their war-torn city, and The Great Houses still vie for dominion over the once grand capital.
House Silverspires, previously the leader of those power games, lies in disarray. Its magic is ailing; its founder, Morningstar, has been missing for decades; and now something from the shadows stalks its people inside their very own walls.
Within the House, three very different people must come together: a naive but powerful Fallen, an alchemist with a self-destructive addiction, and a resentful young man wielding spells from the Far East. They may be Silverspires' salvation. They may be the architects of its last, irreversible fall…
My verdict: ★★★★ Review to follow
---
What do I think I'll read next?
I'm hopefully going to buddy read The Way of Kings by Brandon Sanderson, followed by Words of Radiance with my fiance as we both want to read it.