is meme formerly hosted by MizB, is now hosted by Sam over at Taking on a World of Words.
Why not join in? Just answer the following three questions in a post and then put a link to that post in the Comments over at Taking on a World of Words.
The questions are:
What are you currently reading?
What did you recently finish reading?
What do you think you'll read next?
All images link back to their respective Goodreads page.
May and June have been two incredibly busy months where I haven't had much of a chance to do any reading let alone anything else. I'm currently reading like 5 books at once including a few ARCs and the blog has taken a bit of  a back burner in favour of living a bit more!
---
What am I currently reading?
Goodreads Synopsis: Following Peter Newman's brilliant debut, THE VAGRANT. This is the much-anticipated sequel, THE MALICE.
In the south, the Breach stirs.
Gamma's sword, the Malice, wakes, calling to be taken to battle once more.
But the Vagrant has found a home now, made a life and so he turns his back, ignoring its call.
The sword cries out, frustrated, until another answers.
Her name is Vesper.
Current completion: 32%
∞
Goodreads Synopsis: GLORY NEVER GETS OLD.
Clay Cooper and his band were once the best of the best — the meanest, dirtiest, most feared crew of mercenaries this side of the Heartwyld.
Their glory days long past, the mercs have grown apart and grown old, fat, drunk – or a combination of the three. Then an ex-bandmate turns up at Clay's door with a plea for help. His daughter Rose is trapped in a city besieged by an enemy one hundred thousand strong and hungry for blood. Rescuing Rose is the kind of mission that only the very brave or the very stupid would sign up for.
It's time to get the band back together for one last tour across the Wyld.
Current Completion: Page 34 of 502
∞
Goodreads Synopsis: New York Times bestselling author Nalini Singh introduces a bold new chapter in her extraordinary paranormal romance saga with the Psy-Changeling Trinity series. Wild passion will encounter the darkest of betrayal…
Control. Precision. Family. These are the principles that drive Silver Mercant. At a time when the fledgling Trinity Accord seeks to unite a divided world, with Silver playing a crucial role as director of a worldwide emergency response network, wildness and chaos are the last things she needs in her life. But that's exactly what Valentin Nikolaev, alpha of the StoneWater Bears, brings with him.
Valentin has never met a more fascinating woman. Though Silver is ruled by Silence—her mind clear of all emotion—Valentin senses a whisper of fire around her. That's what keeps him climbing apartment buildings to be near her. But when a shadow assassin almost succeeds in poisoning Silver, the stakes become deadly serious…and Silver finds herself in the heart of a powerful bear clan.
Her would-be assassin has no idea what their poison has unleashed…
Current completion: 40% Once again this is one of Nalini Singh's finest.
∞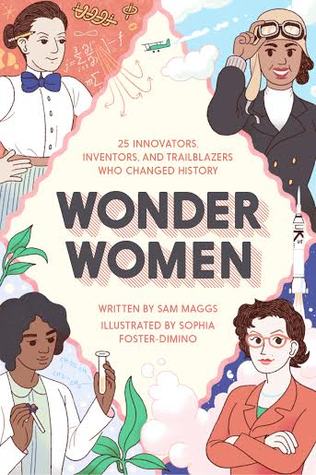 Goodreads Synopsis: You may think you know women's history pretty well. But have you ever heard of. . .
· Alice Ball, the chemist who developed an effective treatment for leprosy—only to have the credit taken by a man?
· Mary Sherman Morgan, the rocket scientist whose liquid fuel compounds blasted the first U.S. satellite into orbit?
· Huang Daopo, the inventor whose weaving technology revolutionized textile production in China—centuries before the cotton gin?
Ever heard of Allied spy Noor Inayat Khan, a woman whom the Nazis considered "highly dangerous"? Or German painter and entomologist Maria Sibylla Merian, who planned and embarked on the world's first scientific expedition? How about Huang Daopo, the inventor who fled an abusive child marriage only to revolutionize textile production in China?
Smart women have always been able to achieve amazing things, even when the odds were stacked against them. In Wonder Women, author Sam Maggs tells the stories of the brilliant, brainy, and totally rad women in history who broke barriers as scientists, engineers, mathematicians, adventurers, and inventors, complete with portraits by Google doodler Sophia Foster-Dimino. Plus, interviews with real-life women in STEM careers, an extensive bibliography, and a guide to women-centric science and technology organizations—all to show the many ways the geeky girls of today can help to build the future.
Current completion: 130 of 240
∞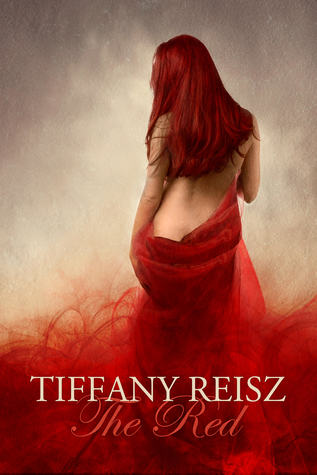 Goodreads Synopsis: Mona Lisa St. James made a deathbed promise that she would do anything to save her mother's art gallery. Unfortunately, not only is The Red painted red, but it's in the red. She soon realizes she has no choice but to sell it.
Just as she realizes she has no choice but to sell it, a mysterious man comes in after closing time and makes her an offer: He will save The Red if she agrees to submit to him for the period of one year.
The man is handsome, English, and terribly tempting…but surely her mother didn't mean for Mona to sell herself to a stranger. Then again, she did promise to do anything to save The Red…
The Red is a standalone novel of erotic fantasy from Tiffany Reisz, international bestselling author of The Bourbon Thief and the Original Sinners series.
Current completion: Not yet started
What did I recently finish reading?

Goodreads Synopsis:
Benjamin is a programmer moonlighting as a security guard at Dystopia, a seedy club that caters to the down-and-outs, the desperates, the addicts. He's been building his reputation, saving for a way out – but when he rescues a young woman from the nearby estate, he may just have stepped too far out of line…
Lucy is ordinary; a girl with a deadbeat boyfriend, a normal life and college studies. But when her world takes an odd twist, she starts to wonder about the people she's meeting, the situations she's in, the odd aversions and attacks happening around her. They're just coincidences…aren't they?
And Zack is in deep trouble. He's losing his girlfriend, drowning in debt, and has dwindling job prospects – and that's not the worst of it. His debt is to people who won't ever forget it, and who want the things closest to Zack's heart: his blood – and his life.
In the heart of Swindon, an ancient order hides in plain sight, spreading their influence through the streets like a disease. But despite their widespread power they are catching up with the modern world: the vampires are going online, and the Order is about to become more powerful than even they would have dreamed…
My rating: ★★★★★  My review can be found here
∞
Goodreads Synopsis:
Nanoannie is bored. She wants to go to clubs, wear the latest Earth fashions, and dance with nuke guys. But her life is not exciting. She lives on her family's Pharm with her parents, little sister, and a holo-cat named Fuzzbutt. The closest she gets to clubs are on the Marsnet. And her parents are pressuring her to sign her contract over to Utopia Limited Corp before she's even had a chance to live a litte. When Kapera—a friend from online school—shows up at her Pharm asking for help, Nanoannie is quick to jump in the roer and take off. Finally an adventure!
What Nanoannie and Kapera find at the Smythe's Pharm is more than the girls bargained for. The hab has been trashed and there are dead bodies buried in the backyard! If that wasn't bad enough, the girls crash the rover and Kapera gets kidnapped by Facers who claim her parents are murderers! Between Renegade Nuns, Facers, and corp geeks, Nanoannie and Kapera don't know who to trust or where to go. Kapera only wants to find her parents so they can get to Earth Orbitals and she can be treated for her leukemia. Nanoannie wants to help her friend and experience a little bit of Mars before selling her contract to the first corp that offers to buy it.
Life isn't easy when you're just a couple of Mars Girls.
"Mary Turzillo has crafted an extraordinary tale of teenaged adventure on a harsh planet. Heroines Nanoannie and Kapera use bravery and ingenuity to survive on a vividly imagined future Mars."
—Brenda Cooper, author of Edge of Dark
"Mars Girls delivers real-feeling characters in a fast-moving, exciting space adventure."
—Kij Johnson, author of The Dream-Quest of Vellitt Boe
My rating: ★★★★  My review can be found here
∞
Goodreads Synopsis: Celebrity archaeologist Cari Dunn is so over the Georgia heat, the red tape at her dig site, and the threatening messages left on her motel door. She just wants to dig, and the network just wants to keep her safe—with a bodyguard. She can't complain. Jasper Benjamin radiates raw masculinity that penetrates her to the core and ignites passion she's never felt. Too bad for him, she's not going to be easy to handle.
Lusting after the bodyguard shouldn't be so tempting, especially when her life is on the line.
My rating: ★★★★.5 My review wasn't officially published on my blog but here is my Goodreads review
∞
Goodreads Synopsis:
Following directly on from the events of TO GREEN ANGEL TOWER, the Norns and the Storm King Ineluki have been defeated at the Battle for the Hayholt; Seoman and Miriamele, the new king and queen, order their victorious armies to shadow the retreating Norns.
One of the enemy group is escorting the huge funeral cortege of one of their leaders, on their journey they become detached and trapped in the ancient fortress of Tangleroot on the frontier. As well as their dead lord, they carry a great magical artefact, a stone called the Heart of What Was Lost, one of the last relics of their ancient civilization. Soon the fortress is invested, the battle commences, and bloodshed and magic flow.
My rating: ★★★
---
What do I think I'll read next?
Goodreads Synopsis: The multi-award-winning author of The House of Shattered Wings continues her Dominion of the Fallen saga as Paris endures the aftermath of a devastating arcane war….
As the city rebuilds from the onslaught of sorcery that nearly destroyed it, the great Houses of Paris, ruled by Fallen angels, still contest one another for control over the capital.
House Silverspires was once the most powerful, but just as it sought to rise again, an ancient evil brought it low. Phillippe, an immortal who escaped the carnage, has a singular goal—to resurrect someone he lost. But the cost of such magic might be more than he can bear.
In House Hawthorn, Madeleine the alchemist has had her addiction to angel essence savagely broken. Struggling to live on, she is forced on a perilous diplomatic mission to the underwater dragon kingdom—and finds herself in the midst of intrigues that have already caused one previous emissary to mysteriously disappear….
As the Houses seek a peace more devastating than war, those caught between new fears and old hatreds must find strength—or fall prey to a magic that seeks to bind all to its will.