is meme formerly hosted by MizB, is now hosted by Sam over at Taking on a World of Words.
Why not join in? Just answer the following three questions in a post and then put a link to that post in the Comments over at Taking on a World of Words.
The questions are:
What are you currently reading?
What did you recently finish reading?
What do you think you'll read next?
All images link back to their respective Goodreads page.
May and June have been two incredibly busy months where I haven't had much of a chance to do any reading let alone anything else. I'm currently reading like 5 books at once including a few ARCs and the blog has taken a bit of  a back burner in favour of living a bit more!
---
What am I currently reading?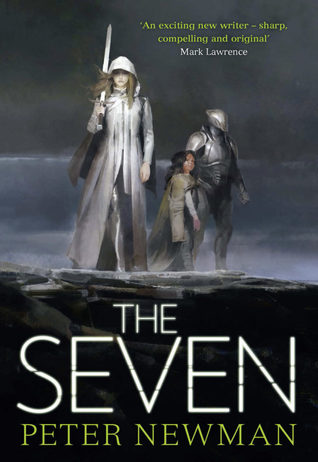 Goodreads Synopsis: Years have passed since the Vagrant journeyed to the Shining City, Vesper in arm and Gamma's sword in hand.
Since then the world has changed. Vesper, following the footsteps of her father, journeyed to the breach and closed the tear between worlds, protecting the last of humanity, but also trapping the infernal horde and all those that fell to its corruptions: willing or otherwise.
In this new age it is Vesper who leads the charge towards unity and peace, with seemingly nothing standing between the world and a bright new future.
That is until eyes open.
And The Seven awakes.
Current completion: 32%
∞
Goodreads Synopsis: GLORY NEVER GETS OLD.
Clay Cooper and his band were once the best of the best — the meanest, dirtiest, most feared crew of mercenaries this side of the Heartwyld.
Their glory days long past, the mercs have grown apart and grown old, fat, drunk – or a combination of the three. Then an ex-bandmate turns up at Clay's door with a plea for help. His daughter Rose is trapped in a city besieged by an enemy one hundred thousand strong and hungry for blood. Rescuing Rose is the kind of mission that only the very brave or the very stupid would sign up for.
It's time to get the band back together for one last tour across the Wyld.
Current Completion: Page 53 of 502
What did I recently finish reading?

Goodreads Synopsis: Following Peter Newman's brilliant debut, THE VAGRANT. This is the much-anticipated sequel, THE MALICE.
In the south, the Breach stirs.
Gamma's sword, the Malice, wakes, calling to be taken to battle once more.
But the Vagrant has found a home now, made a life and so he turns his back, ignoring its call.
The sword cries out, frustrated, until another answers.
Her name is Vesper.
Current completion: 32%
My rating: ★★★★★  My review can be found here
---
What do I think I'll read next?
Goodreads Synopsis: The multi-award-winning author of The House of Shattered Wings continues her Dominion of the Fallen saga as Paris endures the aftermath of a devastating arcane war….
As the city rebuilds from the onslaught of sorcery that nearly destroyed it, the great Houses of Paris, ruled by Fallen angels, still contest one another for control over the capital.
House Silverspires was once the most powerful, but just as it sought to rise again, an ancient evil brought it low. Phillippe, an immortal who escaped the carnage, has a singular goal—to resurrect someone he lost. But the cost of such magic might be more than he can bear.
In House Hawthorn, Madeleine the alchemist has had her addiction to angel essence savagely broken. Struggling to live on, she is forced on a perilous diplomatic mission to the underwater dragon kingdom—and finds herself in the midst of intrigues that have already caused one previous emissary to mysteriously disappear….
As the Houses seek a peace more devastating than war, those caught between new fears and old hatreds must find strength—or fall prey to a magic that seeks to bind all to its will.